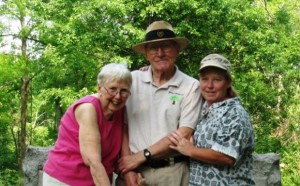 Although my Father won't ever read this online, I would like to pay a special tribute to him for Father's Day. Dad is alive and well, but he doesn't own a computer. A New Years baby born in 1927, he firmly believes computer technology is beyond his comprehension. Not that my Sisters and I haven't tried to sway him into the computer age. We've finally resigned to the fact that "you can't teach this old dog, new tricks".
For those of us who weren't alive in the late 20s, it was the age of the Great Depression, which began in 1929 and lasted until the early 40s. My Folks grew up during those horrific times. Instead of becoming bitter, they did their best to instill a sense of selflessness into their children. Their idea of a good time was to watch the boats travel through the locks of the Welland Canal, take camping trips with their friends, and dance the night away to the Big Bands and Swing Music at the local dance halls. To them, drugs didn't exist because they were high on life, even during the Depression. They made the most of what they had.
Thanks to my Dad (and Mom) for teaching us how to enjoy the simple things in life, respect our elders, get out of the house and play, and take time to enjoy nature. There were many times I did things "the hard way" instead of taking Dad's advice, but every time I did, it came back to bite me in some way. Family vacations were taken at Allegany State Park in NY State's Southern Tier. That's where Dad taught my late brother and I how to fish, fillet them, and cook them over the fire.
Thinking back on how tough life must have been for my parents, they never complained. They didn't have "the idiot box" (TV), computers, advanced medical technology, and all the other things we take for granted. Today, most of what we hear on the news or in our daily life is people complaining about how bad things are. They are difficult, there's no question about it, but take a moment to reflect and realize they could be much worse.
Thank you, Dad, for teaching us those important life lessons.
Happy Father's Day to all those Dad's out there, relax and enjoy your day!