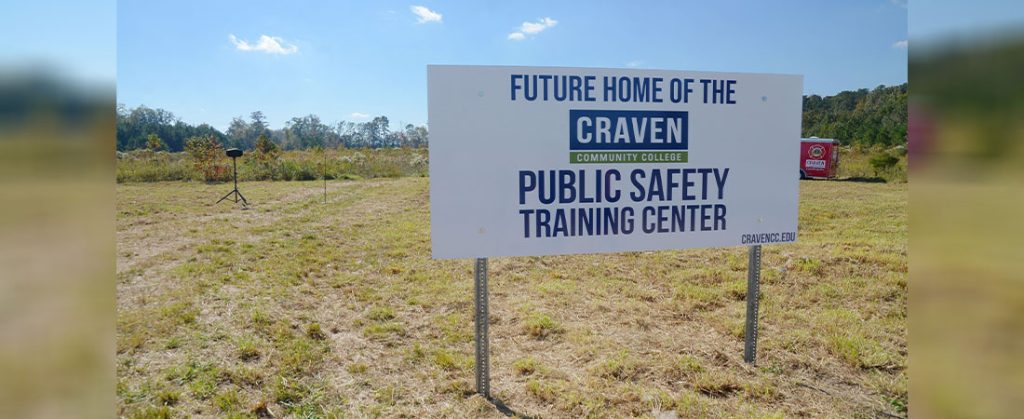 Craven Community College has released plans for a new Public Safety Training Center to be located at the county Industrial Park. The news comes following the college's recent announcement of $12 million in legislative appropriations and the acquisition of 30 acres for the new training complex.
During a gathering at the site at 501 Executive Parkway in New Bern Monday, CCC President Dr. Ray Staats explained that the facility will be dedicated to training first responders in Eastern North Carolina, including firefighters, law enforcement, and EMS.
According to Staats, the Public Safety Training Center will train entry-level and skilled-level first responders in all of the various emergency services. 
"It will serve the entire region. We're short of just about every type of workforce individual you might imagine, and our emergency services folks are literally lifesavers," Staats explained, 
Staats said CCC has hired SCN Architects to draw up a master plan for the PSTC. He said that plan is now 60%-70% complete and should be finished "within the next couple of months."
As funding becomes available, Staats said construction stages are expected to include a 20,000-square-foot shell building, vehicle driving range with skid pad, two-story residential burn building, four-story drill tower, exterior burn area, drafting pit, hazardous waste training area, indoor firearms training facility/shooting range, and vehicle extrication pad. 
Officials plan to break ground on the PSTC in 2024.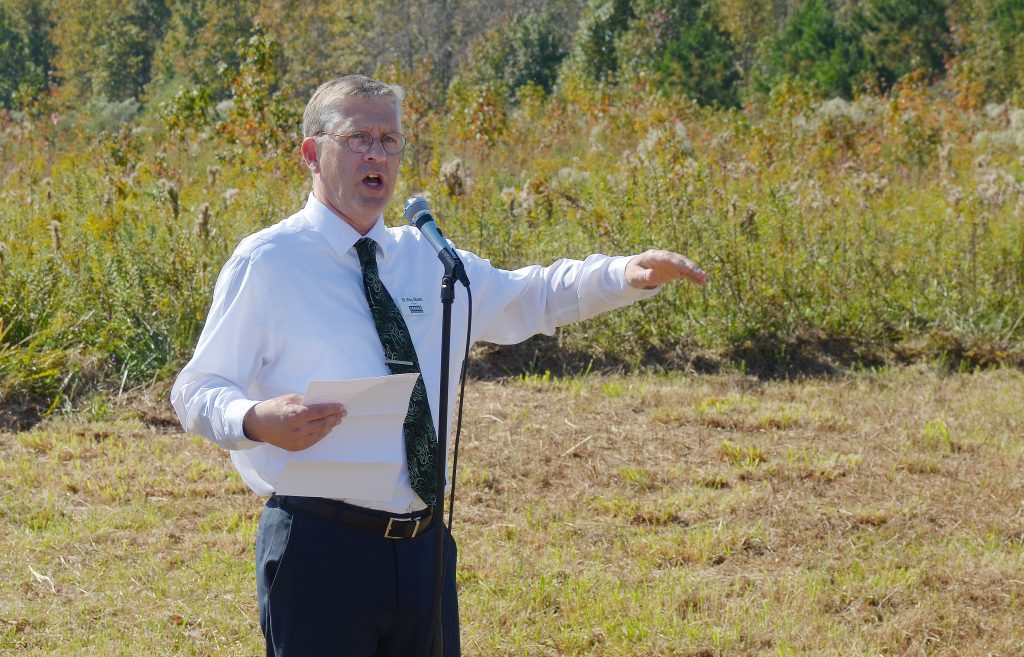 Staats said 16 acres of the land where the facility will be located was given to the Craven County Fireman's Association in 2002 for a planned fireman's training center. Due to funding issues, however, the project never got off the ground.
Staats said 10 years ago CCC drew up plans for a comprehensive public training center. After reacquiring the land from the Fireman's Association, last November the college signed a lease for the property with the additional acreage added.
"This has been something that's been coming for more than 20 years," explained Staats. "With the help of our legislative delegation, our Craven County commission, the City of New Bern, and a host of partners, we finally got all the pieces together."
On hand for Monday's announcement were three members of the NC General Assembly that played a role in securing funding for the project through House Bill 259 — Senator Jim Perry (R-Dist.2) and Representatives Steve Tyson (R-Dist.3) and Celeste Cairns (R-Dist. 13). 
"I'm very excited about this," Tyson said. "I was on the county board many, many years ago talking about what could be done with this property, and while I applauded the vision of the volunteer fire departments, we didn't think they were ever going to be able to have sustainability to build something out here and keep it alive. That's where this facility will come into play."
Perry said the project touched three critical areas in rural North Carolina — the community college system, law enforcement and fire service.
"That is our holy grail for what keeps our communities together in the rural areas," he said. 
Craven County Manager Jack Veit said state funding was crucial to moving the project forward. 
"We're really excited," he commented. "This has been a vision for a long time coming and we look forward to having the state money to actually be able to build the facility and provide training here in the county for our first responders, which is a most important part of what we do."
By Todd Wetherington, co-editor. Send an email with questions or comments.