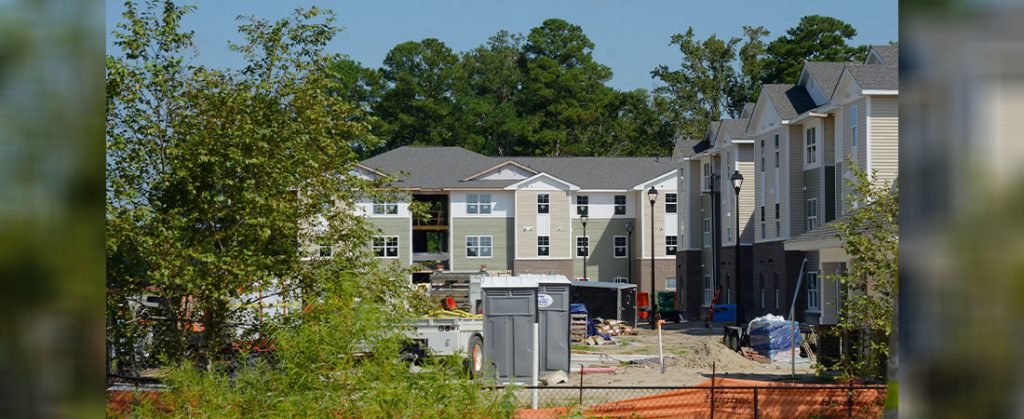 Construction of a new apartment complex near New Bern High School is expected to be completed by this winter, according to developers.
Work on the new 60-unit Palatine Meadows development, which began construction in January, is expected to be finished next February, according to Denis Blackburne, senior vice president, Woda Cooper Companies, Inc.
Blackburne said the lease up phase for the apartments is expected to begin in late March or early April of 2024.
Located at 4140 Academic Drive on 3.7 acres, Palatine Meadows will feature 18 one-bedroom units at 676 square feet; 24 two-bedroom units at 900 square feet; and 18 three-bedroom units measuring 1,112 square feet, according to information provided by Blackburne.
The projected rent range for Palatine Meadows units is $350 (1BR at 40% area median income) to $1,075 (3BR at 80% area median income) per month, depending on AMI restriction and the size of the unit. 
The units will be income restricted to meet the following guidelines:
-15 units reserved for residents earning up to 40% area median income
-15 units for 50% AMI
-27 units for 70% AMI
-3 units for 80% AMI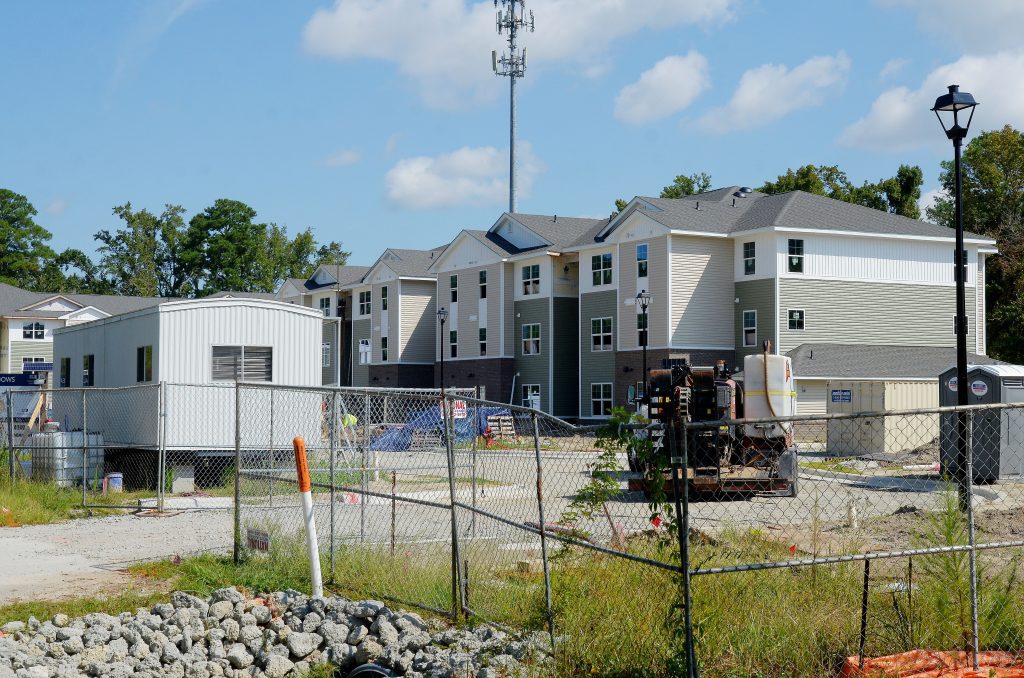 All units will include electric heat and air conditioning; washer/dryer closets with connections; luxury vinyl tile flooring, and blinds and come with a 16-square foot exterior storage closet.
The kitchens will come equipped with ENERGY STAR appliances including an electric range/oven, dishwasher, refrigerator with freezer compartment, and microwave. 
Amenities at the complex will include a community building with the management/leasing office, multipurpose space, laundry facility, and fitness room. Exterior amenities will include a playground and a covered picnic area with tables and grills.
According to Blackburne, residents will pay for electricity, water and sewer while the owner will pay for trash pickup.
Woda Cooper Companies also developed and owns Tate Commons on Karen Drive in New Bern, as well as seven other properties in eastern North Carolina, including Old Firetower Place in Greenville, Ravenwood Crossing in Rocky Mount, and Tooley Place in Elizabeth City.
In total, Woda owns and operates more than 350 properties and 16,000 housing units in the U.S.
According to Craven County GIS, the Palatine Meadows property was sold by Raines Properties, LLC to Palatine Meadows Limited partnership on Nov. 4, 2022 for $490,000. The total assessed land value is listed at $317,900.
By Todd Wetherington, co-editor. Send an email with questions or comments.