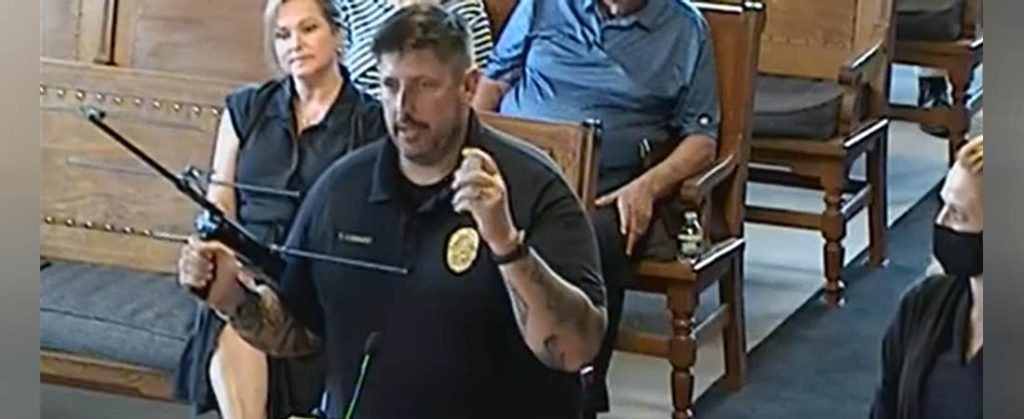 A new program being implemented in New Bern will help aid citizens with cognitive impairments who are in danger of going missing.  
Last month the New Bern Board of Aldermen approved a memorandum of understanding between the city and the Eastern Carolina Council for Project Lifesaver. The international program is operated by public safety agencies to assist in search and rescue efforts for at-risk individuals prone to the life-threatening behavior of wandering. 
Under the agreement, the New Bern Fire-Rescue Department and New Bern Police Department will operate the Project Lifesaver program, while the Eastern Carolina Council (ECC) will be responsible for case management and obtaining funding. 
According to New Bern Police Chief Patrick Gallagher, the primary mission of Project Lifesaver is to provide timely responses to reduce potential injuries for individuals with the propensity to wander due to conditions such as Alzheimer's or dementia. The program is only available to New Bern residents. Individuals who live in rest homes are not eligible. 
During a presentation before the Board of Aldermen Tuesday, New Bern Police Lieutenant Todd Conway explained that the program works by supplying individuals identified as at-risk with a transmitter band that can be worn on the wrist or ankle which allows local first responders to monitor their location with a receiver.
"If the person were to leave or to walk away from their spouse at a mall or a house when we get the call, we do a triangulation (search) method," Conway explained. "The receiver picks up the signal, then the police or fire department goes out on the scene and they form a triangle to figure out where the location is and then close in."
Conway said the program has already worked in New Bern to find individuals who have gone missing.
"There have been individuals here in the city that this has been beneficial to. They have left and we have found them within 30 minutes," he commented. 
January Brown, deputy director at the Eastern Carolina Council Area Agency on Aging, explained that ECC will handle all referrals for Project Lifesaver clients. Caregivers will either be referred to them by the police or fire department or by the caregiver calling ECC directly at 252-638-3185.
Brown said once a referral is made she will visit the home to perform an assessment and safety check during which she will find out the individual's diagnosis. Brown said she works with caregivers not only in getting clients onboard with Project Lifesaver but also with home safety concerns such as door alarms.
Following the assessment Brown refers the client to the police or fire department, which runs the program after the initial intake process.
Brown stressed that the program is not income based, with much of its funding coming through the federal Older Americans Act as well as grants. 
"I have seen first hand what Project Lifesaver can do for individuals and felt this was a strong resource needed here in New Bern," Brown said. 
According to Gallagher there are currently 17 agencies within 100 miles of New Bern that utilize the Project Lifesaver program, the closest being the Onslow County Sheriff's Office and Morehead City.
By Todd Wetherington, co-editor. Send an email with questions or comments.