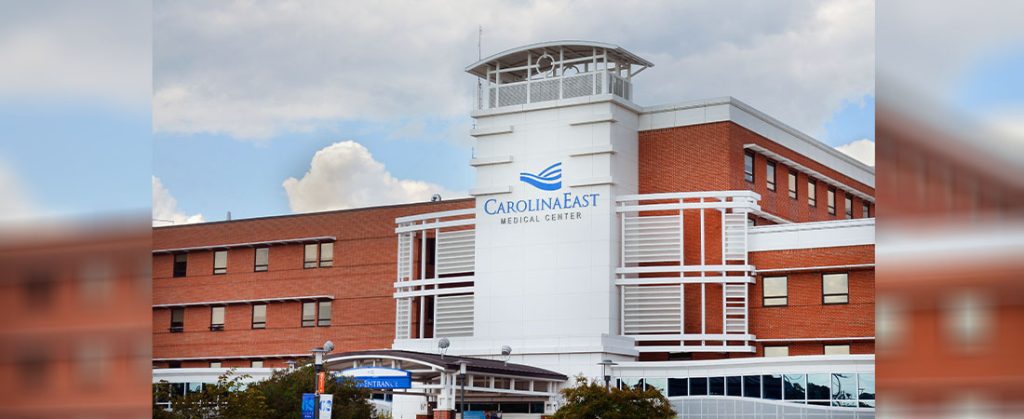 A recent study examining how North Carolina hospitals collect medical debt has found that thousands of patients were sued over a five and a half year period to collect on unpaid bills. The findings show CarolinaEast Medical Center in New Bern brought a total of 55 cases against 58 of the hospital's patients during that time, a number that places CarolinaEast in the category of what the study classifies as "litigious hospitals."
According to "Hospitals Suing Patients: How Hospitals Use N.C. Courts to Collect Medical Debt," from January 2017 through June 2022, North Carolina hospitals brought 5,922 lawsuits to collect medical debt against 7,517 patients and family members. The report, which was produced by the state treasurer and Duke University School of Law researchers, found that the lawsuits generated 3,449 judgments for hospitals totaling $57.3 million, or an average of $16,623 per judgment, and ranged from cases brought in small claims, state district, and state superior courts.
Hospitals that brought 40 or more cases from 2017-2021 are highlighted and labeled as "litigious."
The numbers stated in the report show that CarolinaEast Medical Center, which is operated by Carolina East Health System, brought a total of 47 cases in district court and eight in superior court from 2017-2021. No cases were listed for 2022. 
According to the report, when combined with interest balance and "other fees," judgments in those cases amounted to just under $900,000 against defendants. 
North Carolina law permits hospitals to collect court fees, attorney fees, and 8% annual interest from patients.
The report states that, "Hospitals took advantage of North Carolina's allowance of 8% annual interest on judgments, including by refiling actions to sustain judgments issued ten years earlier. These interest charges and other additional fees totaled an estimated $20.3 million, or 35.4% of the judgments awarded."
Hospitals that filed more than 40 lawsuits over the study period also had an average charge-to-cost ratio of 480.5%, compared to the national average of 417% in 2018, and an average net profit margin of 12% from 2017 to 2022, according to the report.
Court data cited in the report showed that patients sued for medical debt often ended up owing far more than their original medical bill. Though hospitals sued to collect an average principal of $10,732, the average total judgment against patients was $16,623 — almost 54.9% more than the original average medical bill. 
Interest accounted for more than 30% of the total debt owed by patients, or $17.7 million of the total $57.3 million in judgments.
"Hospitals also were awarded attorney fees in 29.8% of judgments. The average attorney fee awarded was $1,972 and reached as high as $18,391. Similarly, hospitals charged an average of $173.09 in court fees to patients across 98.5% of judgments," the report states.
Five hospital systems were responsible for 96.5% of all lawsuits cited in the report, with Atrium Health, the fifth largest hospital system in the nation, filing 41.9% of the cases against patients. In descending order, Caromont Health, Sampson Regional Medical Center, Community Health Systems and Mission Health were the next four most litigious North Carolina hospital systems listed.  
The "Hospitals Suing Patients" report was cited by State Treasures Dale Folwell when he called on the N.C. House of Representatives to pass "Senate Bill 321, the Medical Debt De-Weaponization Act," which would cap interest in medical debt collection and require transparency in medical bills. The bill was unanimously passed by the Senate but has yet to move out of the House Committee On Rules, Calendar, and Operations, where it was refereed last May.
New Bern Now reached out to CarolinaEast Medical Center for comment on the "Hospitals Suing Patients" report but had not received a reply by press time. 
The full report can be viewed at scholarship.law.duke.edu/cgi/viewcontent.cgi?article=6961&context=faculty_scholarship.