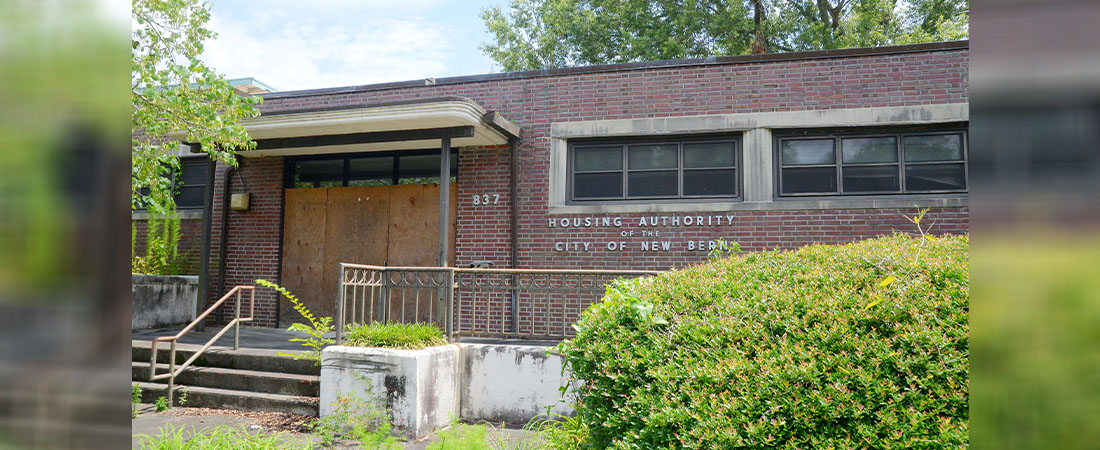 Plans for the rebuilding of New Bern's Trent Court have taken yet another turn, as negotiations with a Charlotte-based development firm appear to have fallen through. 
At the August 21 meeting of the New Bern Housing Authority Board of Commissioners, Executive Director Tiffany Askew announced that the agency would not be working with Laurel Street, a firm that develops mixed-income communities for working families and seniors throughout the East Coast. The board had been in negotiations over a memorandum of agreement (MOA) with Laurel Street since May. 
Askew said the NBHA would need to issue another request for qualifications (RFQ) to identify and hire a different development partner to replace Laurel Street. 
According to Askew it could take as long as six months before the board reaches the agreement negotiation stage with another development firm. She said the RFQ would go out for 90 days, after which the board would meet with the top three applicants and choose the most qualified. 
New Bern Now has reached out to Askew about the decision to no longer seek an agreement with Laurel Street but had not received a reply by press time. 
Although no specific reason was given for the decision during last week's meeting, at the board's August 1 meeting confusion arose over the state of negotiations between Laurel Street and NBHA Attorney Jamie Norment.  
During that meeting, Norment said he had not received feedback from Laurel Street on proposed changes to the language of the MOA. Askew responded that she hadn't received any comments from the board members so she had not provided the development firm with an updated MOA document.
"They were looking for us to review it and provide comments on that document and any additional changes that we wanted to make, provide that to them," Askew explained. "So at that point we could discuss them and negotiate whatever we need to with them but I didn't get any feedback from the board. So they don't have anything to discuss with us at this point."
Norment said he had received comments from commissioners Sabrina Bengel and Denise Powell that were consistent with concerns he had already included in a draft of the updated MOA. Norment said he was under the impression that the document had already been sent to Laurel Street.
"That's why I was waiting on them to respond to us," he remarked.
Bengel said her concerns with the MOA offered by Laurel Street centered around "three different splits of money."
"One says they get 90 (percent) and we get 10, another says they get 85 and we get 15. There's all these different percentages that I'm concerned about," Bengel explained. "I mean we're paying them $250,000. If we default we'd have to pay that to them…Are they willing to negotiate on some of those levels?"
Bengel said her concerns were based on not wanting the Housing Authority "to get the short end of the stick."
"The way it's written right now Laurel Street benefits many times over from this and could possibly leave us in not a good position if something happens," Bengel commented. 
Askew said she was aware the Housing Authority has had some "very bad deals" prior to her coming on board and agreed with Bengel's assessment. 
Norment said he was going to send the revised MOA document with his concerns to Askew that night or the following morning so she could send it to Laurel Street. Askew said she would request to meet with Laurel Street and their attorney the following week. 
"They'll either tell us 'Hey, yeah we can work with you on this' or they can say 'No, we're not going to work with you on this.' That's what we really need to know," Norment said.
During last week's meeting no mention was made of Laurel Street's response to the updated MOA sent by Askew.
NBHA Development Consultant Reggie Barner said he would like to have the RFQ for a new developer ready by next month for board approval at their September 18 meeting. 
Barner said that timeline allows the housing authority to move forward with an environmental assessment of the Trent Court property as well as discussions with the Federal Emergency Management Agency and the North Carolina State Historic Preservation Office.
According to an update last week from Trent Court Property Manager Pamela Minor, 102 of the housing development's 110 units are currently occupied. She said for the year residents have a total unpaid rental balance of $40,776.
By Todd Wetherington, co-editor. Send an email with questions or comments.