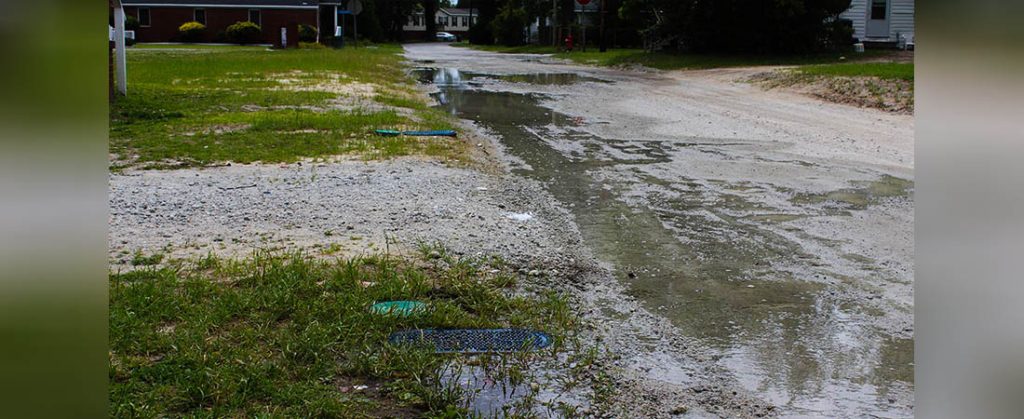 Updated on June 5: City addresses leak on Raliegh Street and concerns from citizens in last two paragraphs.
Plans for a large-scale project to resurface the eroded streets of New Bern's Duffyfield community are moving forward, according to City of New Bern staff.
Bids for the project were due back on June 2 by 2 p.m. Out of the three bids received, the city chose Barnhill Contracting Company of Jacksonville, who came in with the low estimate of $200,000. Barnhill is expected to begin work on the project in approximately two weeks.
The work had previously been estimated to cost $325,000, with the funding allocated in New Bern's fiscal year 2022-23 budget.
George Chiles, director of Public Works, said the project will take approximately two weeks to complete, with resurfacing taking place on the following streets:
-Main Street from Eubanks to Bloomfield Street
-Washington from Clark to Garden Street
-Raleigh from Garden to East Rose Street
-Myrtle from Goldsboro to Mechanic Street
According to Colleen Roberts, public information officer for the City of New Bern, the city plans to notify residents about the project through social media, New Bern Alerts and a public news letter.
"We're trying to spread the word as quick as we can to let people know this is about to start," Roberts said.
Chiles said in preparation for the resurfacing project, the city's Water Resources Department completed several upgrades to underground water and sewer infrastructure in Duffyfield that had degraded over the years and was beginning to fail. Chiles said public works crews were also scheduled to start the fine grading process on the roadways to prepare for resurfacing work.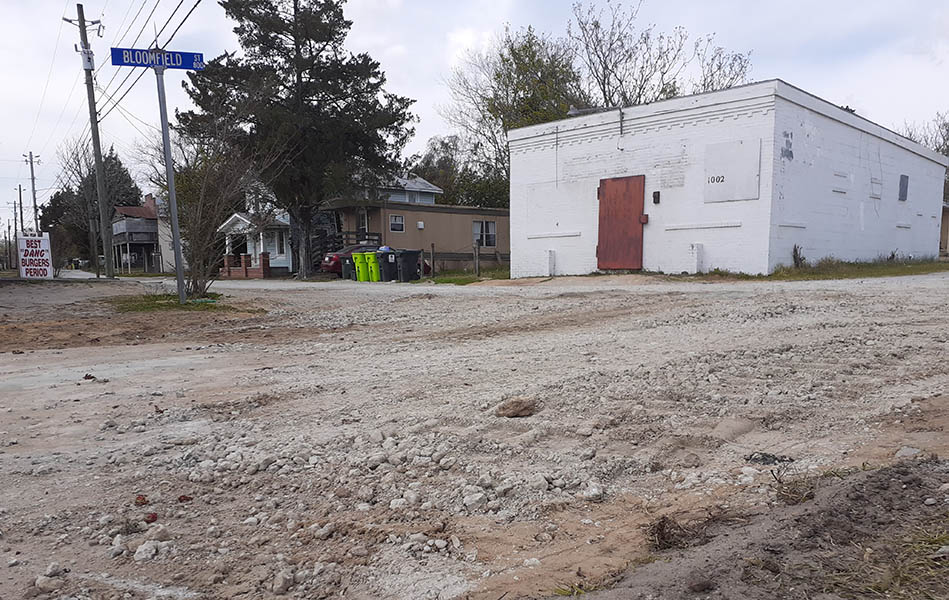 "Once the contractor comes onsite, we try to be a little more prepared for them to be there to expedite the process," he commented.
Chiles said he was unaware of when the streets of Duffyfield were last resurfaced.
During the New Bern Board of Aldermen's May 26 meeting, Alderman Barbara Best questioned Chiles concerning why the project has taken so long to get off the ground.
Chiles said "capacity issues" within his department and with contractors have slowed the process.
"We have a lot of projects going on right now through the ARPA (American Rescue Plan Act) funded projects and we're short on staff," he told the board.
Best asked at what point public works would be hiring employees.
Chiles said he had been working with the assistant city manager and human resources department to facilitate the hiring of new employees.
"The job pressures on every industry, especially in construction right now, are very similar to the pressures on employees recruiting in our department since we're mainly construction oriented," he said. "The demand for those people is very high right now."
Once completed, Chiles said the resurfacing work will significantly improve Duffyfield's streets.
"A lot of those sections of road had less than an inch of asphalt cover on them and what we'll end up with is a 2-inch final paving across those roads," he said. "So we're talking long term, 25 years for new infrastructure underground and a new surface coat that should extend the life and our need to go back into those areas and do repairs."
Mayor Jeffrey Odham told Chiles, "If there's anything you can do to expedite this one, we would all much appreciate it, even if that means putting some other ARPA projects or something on the backburner until we get this one addressed,"
Chiles acknowledged that his department had received "a lot of calls" from Duffyfield residents about the resurfacing project.
"I understand those complaints, I do," he said. "But I believe in the end what they will end up with is a much-improved roadway system in front of their houses and businesses," he commented.
Residents voice concerns
Terre Holloway, owner of Dodge City Market and board member of the Duffyfield Phoenix Project described what he and other residents witnessed after the work was performed earlier this year in the video.
Referring to water flowing down Raleigh Street today, Holloway said people have been dealing with water coming up since the beginning of March after work was done. He said, "I'm not saying that the city hasn't done a good job at the work they have done. I'm not saying that." He believes there are other things that need to be repaired before the roads are resurfaced. Holloway said, "Each one of the spots where they did the work at, I have people calling me from each area telling me the same exact thing. So, what do we do? How do we repair this? How do we resolve this?"
Holloway reported water coming up in front of his store on Main Street in the beginning of March. He said, "they put dirt back on it and a couple of days later they had to come back because this same situation was happening."
City responds to citizen concerns
During a call with the public information officer this afternoon, Roberts said the city is working to resolve the problem on Raleigh Street.
Alderman Best encourages residents to report any issues to the city when they see them.
The city responded to this article on June 5.
The public information officer wrote the following:
The leak was fixed at 1211 Raleigh St. on Friday evening and water service was restored around 6 p.m. At issue was damage to the outdoor meter. It appeared it had been run over by a vehicle. We had no idea about the leak. Our Utility Control office had no record of complaints or requests for service at this address. We encourage customers to contact our Utility Control office at 252-636-4070 to report any power, water, or sewer issue so that we can dispatch crews as soon as possible to look into the issue. The Utility Control office is staffed 24 hours a day, 7 days a week, 365 days a year.
We also sent Water Resources staff to visit Mr. Holloway this morning. The issue he's been having is on the customer side of the meter and needs to be addressed by a plumber, not the City. It is unrelated to the water valve replacement project that was completed by Cayton Plumbing and the City earlier this year along Bloomfield Street. After meeting with city staff this morning, Mr. Holloway said he understood and would address the issue accordingly. The "other people who've been contacting him about water backing up into their homes" as referenced in the video you posted, should contact Utility Control. We are unaware of any additional backups or leaks and our crews are prepared to deploy to any affected customer properties. Contacting Utility Control is the number one way to let us know about a problem so we can dispatch a crew to look into it.
By Todd Wetherington and Wendy Card, co-editors. Send an email with questions or comments.