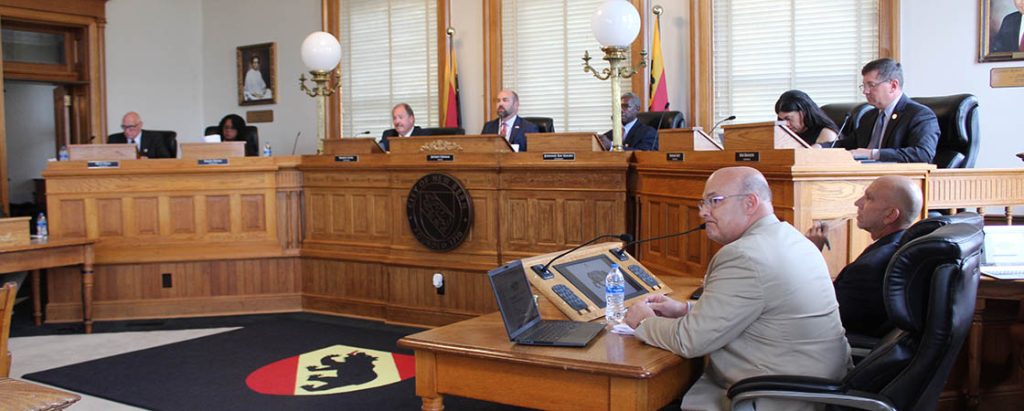 The May 23, 2023 meeting will be held at 6 p.m. in the Courtroom at City Hall located at 300 Pollock St. in New Bern, N.C.
Read the packet with background information on the agenda here.
1. Meeting opened by Mayor Odham. Prayer Coordinated by Alderman Royal. Pledge of Allegiance.
2. Roll Call.
3. Approve Agenda.
Consent Agenda
4. Consider Approving a Proclamation for National Salvation Army Week.
Victor Taylor requested a proclamation recognizing Salvation Army Week. This is observed annually during the week following Mother's Day.
5. Consider Adopting a Resolution Calling for a Public Hearing on the System Development Fee Analysis.
Prior to adopting updates to the water and sewer system development fee analysis, a public hearing is required pursuant to Chapter 162A, Article 8 of the NC General Statutes. The analysis has been posted on the City's webpage to solicit and allow public comment. The 45-day online review period will be complete on June 3, 2023, and any comments received will be presented to the Governing Board during a public hearing on June 13, 2023. A memo from Jordan Hughes, City Engineer, is attached.
6. Approve Minutes.
Draft minutes from the May 9, 2023 meeting are provided for review and approval.
7. Conduct a Public Hearing on the Proposed Budget for Fiscal Year 2023-2024.
The proposed budget for Fiscal Year 2023-2024 was previously presented to the Governing Board, and the Board adopted a resolution on May 9, 2023 calling for a public hearing to receive comments. This hearing was also advertised as required by statute.
8. Consider Adopting a Resolution Closing Specific Streets for Downtown Street Cafes and Entertainment.
(Ward 1) Lynne Harakal, Executive Director of Swiss Bear, has requested specific downtown streets be closed to vehicular traffic every Friday between May 26th and June 30th and in the month of September 2023 to allow for the operation of street cafes and family entertainment. The streets to be closed are the 200 block and a portion of the 300 block of Middle Street and the 300 block of Pollock Street. The closures take place from 6 p.m. until 10:45 p.m. A memo from Kari Warren, Director of Parks and Recreation, is attached along with the event application and a map of the area.
9. Consider Adopting a Resolution Authorizing the Execution of a Contract with T.A. Loving Company for the Stanley White Recreation Center Project.

(Ward 2) Bids for the Stanley White Recreation Center project were received and opened on April 25, 2023. The lowest bid was received from T.A. Loving Company, and CPL Architects and Engineers, PC has vetted the contractor and is finalizing a contract. Representatives from CPL will be in attendance to discuss the project, terms of the contract, and answer any questions. The draft contract indicates the project is to be completed 15 months from the date of commencement of work.
10. Consider Adopting a Resolution Authorizing the City Manager to Negotiate and Execute a Contract with Moffat & Nichol for Resilience Design and Permitting Consulting Services.
A Request for Qualifications was issued for resilience design permitting and consulting services for the NCLWF 2021-416 Innovative Stormwater grant project. Three qualified responses were received on April 3, 2023 and evaluated. From the submissions, Moffatt & Nichol received the highest score. The proposed resolution authorizes the City Manager to negotiate and enter into a contract with this firm for the services needed. A memo is attached from Christopher Seaberg, Community and Economic Development Manager.
11. Consider Adopting a Resolution Approving a Lease Agreement with the Area Day Reporting Program for Youth for 500 Fort Totten Drive.
(Ward 1) The Area Day Reporting Program for Youth has requested renewal of the lease agreement for the property located at 500 Fort Totten Drive. The lease is for a 12-month period beginning July 1, 2023, at a rate of $1 a year. The lessee will be responsible for maintenance and repair of the interior and exterior of the premises and is required to maintain hazard and general liability insurance. A memo from George Chiles, Director of Public Works, is attached.
12. Appointment(s}.
13. Attorney's Report.
14. City Manager's Report.
15. New Business.
16. Closed Session.
17. Adjourn.
Individuals with disabilities requiring special assistance should call 252-639-7501 no later than 3 p.m. on the date of the meeting.
By Brenda Blanco, City Clerk