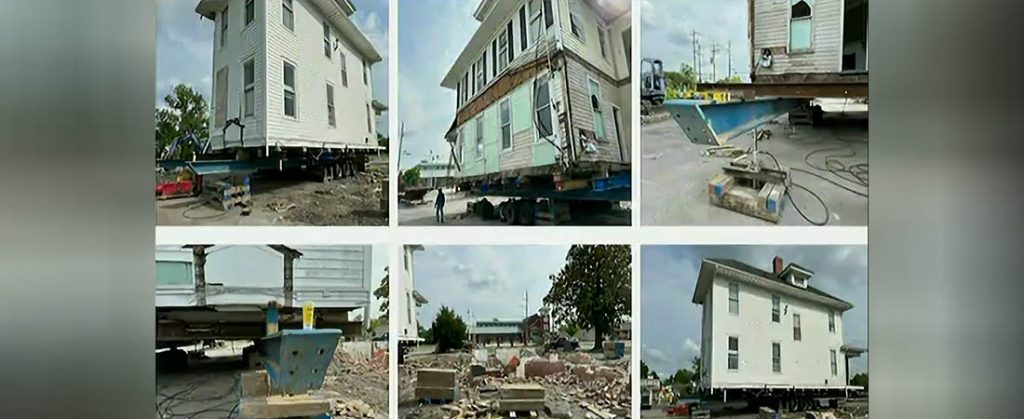 The historic Tisdale House, located at 1312 Broad Street, is scheduled to be moved tonight. The home, which dates back to 1905-1908, will travel from its current location, down First Street, to a new lot in the 1300 block of Rhem Ave. Due to the complexity and scale of this project, several safety requirements will be in place.
The move is scheduled to begin at approximately 7pm. The following streets will be closed during the move:
Intersection of Broad Street & First Street (rolling closure until the house clears Broad Street)
300-400 blocks of First Street
1200 block of Pollock Street
1300 block of Trent Boulevard
1300 block of Rhem Avenue
Detour signs will be set up. The New Bern Police Department and NC Highway Patrol will manage traffic, detours and escort of the home from start to finish. Please heed the direction of law enforcement.
PARKING:
Sidewalks and rights-of-way along the route will be closed due to safety precautions. For people who would like to watch the house as it journeys southwest, parking is recommended at:
1402 Trent Boulevard (Ft. Totten Park)
925 Queen Street (the old Days Inn, accessible from the 900 block of Pollock Street)
1309 Country Club Road (Lawson Creek Park)
On-street parking on Spencer Avenue
PEDESTRIAN/MEDIA STAGING:
Pedestrians and media can gather at the following locations to capture the event:
303 First Street (the City's Human Resources & Development Services office)
1301 Broad Street (the empty lot adjacent to New Bern Fire-Rescue Headquarters)
The City has been granted permission by the private property owner at 1301 Broad Street for pedestrians and media to gather on the lot to capture the event. Both areas will be taped off as designated staging areas.
All streets, sidewalks and rights-of-way will reopen immediately after the move is complete.
By Colleen Roberts, public information officer