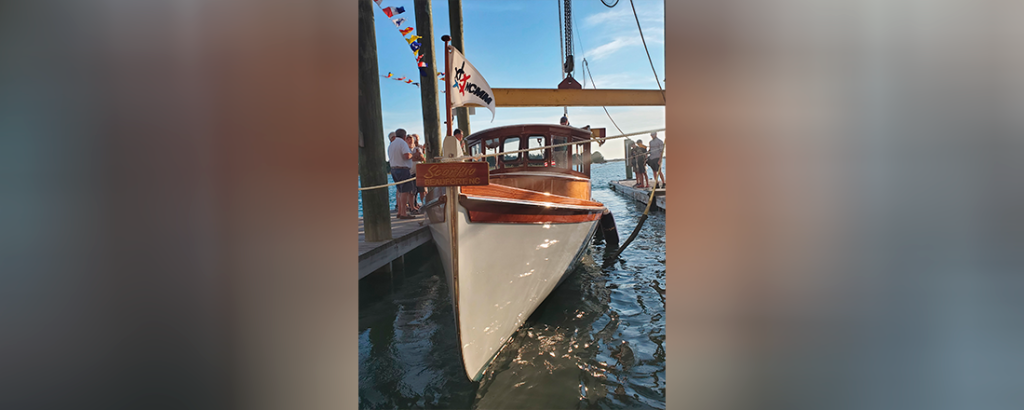 When Shannon McCotter attended the 46th Annual Wooden Boat Show in 2022, he had no intention of buying a boat. That is until he saw the wooden race boat based on the 1950s design by John Hacker.
"When the boat owner and his wife pulled up with it, I gravitated right to it," McCotter said.
After a test ride that day and a few weeks of mulling it over, Walker bought the boat. His Harker-Craft will be one of the many classic and modern wooden boats on display at the 47th annual Wooden Boat Show.
The free event, the longest-running boat show in the southeast, is held annually on the first Saturday in May. This year's event will be held on May 6 from 10 a.m. to 4 p.m. and provides the perfect opportunity to admire the craftsmanship and artistry of wooden boats while enjoying a day out with family and friends.
"Everything is looking great for this year's show," Harvey W. Smith Watercraft Center Manager Grant Caraway said. "We already have nearly 30 boats from the public registered for display, and all of the in-water spots are full."
Caraway said the selection of boats includes classic sailboats, power boats, and self-powered vessels. Last year's Best in Show — Scorpio, a 30-foot Aroha-style motor vessel built at the Watercraft Center — makes its return, and Caraway said more are welcome to register their boats for display. Registration for a first vessel is $30 and includes an event T-shirt. Additional boats are $5 each. Register online at ncmaritimemuseumbeaufort.com or by phone at 252-504-7758.
In addition to the extensive exhibition of classic and modern wooden boats at the show, there will be kids' activities, a model boat expo, knot-tying demonstrations, a book sale, vendors, maritime art, a pirate encampment, boating skills virtual trainer, sailboat races, sailboat rides and more. All are free and located at and around the museum, 315 Front Street in downtown Beaufort, and at the watercraft center on Taylors Creek across the street from the museum. The in-water boat show will be down Front Street at Beaufort Waterfront Docks.
An opening reception with refreshments and entertainment will be held on May 5 from 5 to 7 p.m. at the Watercraft Center. Admission is free to the kickoff event, which coincides with the museum's Spring First Friday, which celebrates the month's featured artist at the Port of Call Museum Store. First Friday will be held in the museum lobby, gift shop, and auditorium from 5:30 to 7:30 p.m. It is also free and open to the public.
For more information, call 252-504-7740 or visit ncmaritimemuseumbeaufort.com.