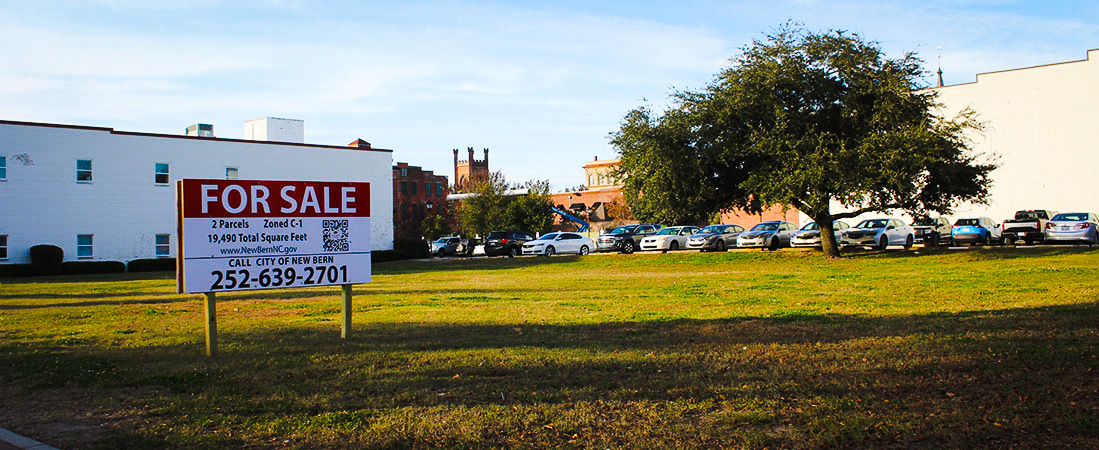 Questions concerning what would become of the real estate in downtown New Bern known as the "Talbots Lots" have finally been answered. 
According to a press release from the Tryon Palace Foundation, the property located at the corner of South Front Street and Craven Street has been donated to the foundation by Trent Woods resident Betty Wilson and will be used for a community park. Wilson requested that the gift be recognized as given by herself and her late husband, William G. Wilson.
"In accepting this generous gift, the Tryon Palace Foundation has an understanding with Mrs. Wilson that the property be developed and maintained as a park and green space for art, education, and community programs," the press release states.
According to the Tryon Palace Foundation, the vision for the property, which will be called Wilson Park, includes "developing a community park that can be used for Fife and Drum Corps performances, re-enactments of the 1st NC Regiment of the Continental Line and the 35th United States Colored Troops, Jonkonnu performances and other educational programming."
The press release also lists additional considerations involving art and displays and states that more details will be announced as plans for future development emerge.
The Tryon Palace Foundation will hold a dedication ceremony for Wilson Park in on April 25. The ceremony, which is open to the public, begins at 4 p.m. on the property.
The opening ceremony will include a procession led by Tryon Palace's 1st NC Regiment of the Continental Line and the posting of colors by the 35th United States Colored Troops.
The New Bern Board of Aldermen voted to approve the sale of the "Talbots Lots" to Wilson for $825,000 during a special called meeting in February. At that meeting a number of citizens spoke out both in favor of and against the sale. 
In 2000, the city purchased the "Talbots Lots" property for just over $150,000 with funds from the city's Municipal Service District. 
The city's initial plans, which were never realized, called for the development of a parking area. A plan in 2005 to bring a Talbots retail store to the location was also unsuccessful. Another option investigated by the city, which included installing a fountain and public seating, failed due to lack of interest from developers. 
The most recent interest in the "Talbots Lots" came from the Kessler Collection, the developers behind the ongoing overhaul of New Bern's former Elks Temple building into a $25 million luxury boutique hotel. 
The property was part of the city's memorandum of understanding with the Kessler Collection that identified economic incentives for the group to develop. When questioned about the sale of the property to Wilson, Assistant City Attorney Jaimee Bullock-Mosley said the Kessler MOU did not prohibit the city from selling the property to another party.
By Todd Wetherington, co-editor. Send an email with questions or comments.