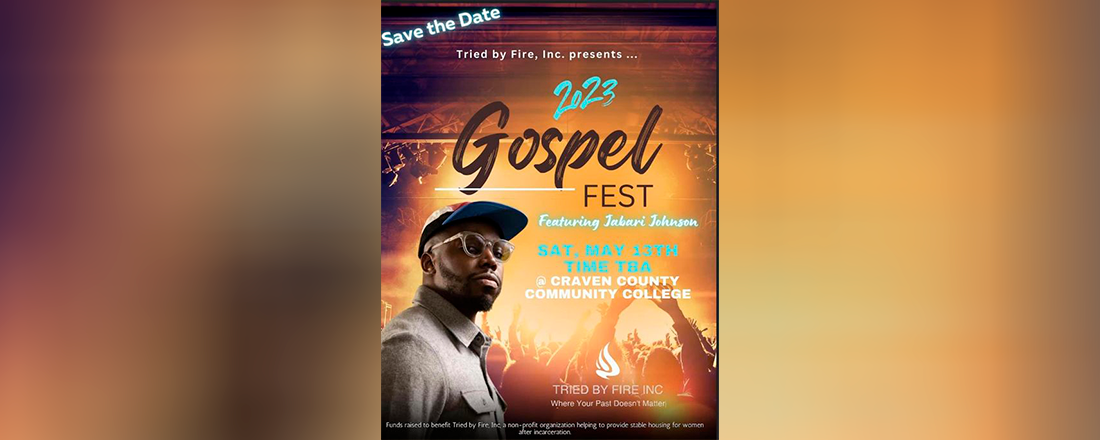 Tried By Fire, Inc. is pleased to present Gospel-Fest 2023 at the Craven Community College on May 13, 2023, with performances from 12 to 4:30 pm on the Campus Lawn, 800 College Court. Special Guest Jabari Johnson, a Grammy & Stellar Award-Winning Gospel artist, will be the headline performer at this fundraising event to benefit the nonprofit's work to provide stable housing for women after incarceration. A March Gladness Ticket Sale for this special event offers discounted tickets for adults at $15, and Seniors or children under 12 at $10 through March 31.
This event is made possible through partnerships with the Craven Community College, Public Radio East, KISS-FM, and Rejoice America Radio. Other well-known Gospel performers scheduled for Gospel-Fest 2023 include Steve Dalton & The Leviticus Singers, Miciah Edwards, Gabrielle (Gabby) Smith, Tamitra Scott, Maurice Rogers & Chosen, and Chanella Monroe. The Pre-Show from 12 p.m. to 2:00 pm will be hosted by Stellar Nominated radio show host Tony D, founder of the New Artist Profile Radio Show. Of course, our own local and nationally recognized Gospel artist, Bonita Burney Simmons, will be among the performers during the event.
"Our Gospel-Fest last year was so well received that we are excited and proud to bring this major Gospel event to Craven County again and to make this an annual celebration," said Bonita Simmons, Executive Director of Tried By Fire, Inc. "Bringing my passion for the genre of Gospel music, together with my mission to create My Sister's House in New Bern as a safe shelter for women working on reentry, is such a special opportunity and blessing for me. This will be a very professional and inspiring show that will definitely have the audience smiling and moving with the music," she explained.
When a woman is released from prison, the most critical need is for her to have a safe and secure place to live, with a valid address, so she can begin to work on rebuilding her life. Without such housing, she may have to return to an abusive partner, or a dysfunctional family, or become homeless. Community-based short-term housing in a supportive environment can significantly reduce recidivism and provide an opportunity for post-incarcerated women to realize a more successful reentry to their community and reunification with their children. My Sister's House at 524 Roundtree Street will accommodate eight women, in a staffed and caring home. A Ribbon Cutting with the New Bern Chamber of Commerce has been scheduled for April 21 at 11:00 am, with the House Dedication and Open House held on April 22 from 1 p.m. to 4 p.m.
Tickets are available at TriedByFireInc.org/events. Discounted tickets are available for groups of 25 or more. Vendor opportunities are available.
Donations to support the operation of My Sister's House will be appreciated and information can be found on their website. Tried By Fire, Inc. is a registered 501-c-3 non-profit organization, and all donations will be formally acknowledged. Call 252-637-2339 for details.
By Deedra Durocher