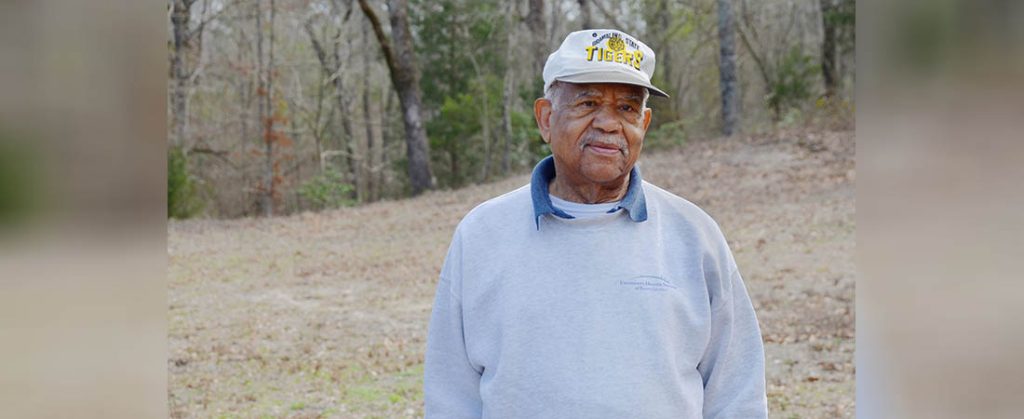 A Trenton native is working against time to find funding to recognize a historic Black graveyard that was all but forgotten for nearly 70 years.
Located at the end of a dirt path that runs beside a cotton field near the Jones County Transportation Department, the Barber Graveyard dates back nearly a century and a half but hasn't been maintained since at least 1955.
And while there are no headstones or other markers to indicate burial sites on the half acre, triangle-shaped plot of land, Sam Barber said he has death certificates for 21 of his kin who are interred at the cemetery, which was incorporated in 1915 and is still owned by the Barber family.
Barber can trace the history of his family's graveyard back as far as 1880 to the burial of his great-grandfather, Peter Barber, a man born into slavery who was one of the county's first black commissioners.
"Back at that time poor folks didn't have money to buy headstones or caskets," he commented.
Barber believes most of his relatives would have been buried in wooden or cardboard boxes, which would leave behind few remains.
"I remember my sister had a stillborn baby and my dad brought it back here and buried it in a shoebox. I remember that very well," Barber recalled. "And there are probably others who were not listed at the courthouse."
A retired educator who now lives in Greenville, Barber grew up among a family of farmers in a home just west of the graveyard before leaving Jones County in 1949 to attend college. In 2020 he had the Barber Graveyard property surveyed and cleared of trees and began making plans to have a bronze plaque made to commemorate the site.
Asked why he decided to take on the cemetery project after so many decades, Barber commented, "It's family tradition and also primarily because of my great-grandfather. When he died there was no mention of him in the (commissioners) minutes or anywhere else. The only way I know he died in 1880 is because of the census."
For the last three years, Barber, who will be 92 in June, has taken on the mission of cleaning up the Barber Graveyard and searching for the proper way to memorialize the site.
According to Barber, he has formed a committee that has gathered several memorial designs, with poverty and justice as the main themes. He said the design the committee has chosen depicts a Black man and woman standing outside of the Jones County Courthouse.
According to Barber, the committee has raised $50,000 of the bronze memorial's approximately $500,000 cost so far.
"That's a lot of money to put in an area like this," he admitted. "But what I'm thinking is not only can we do that in terms of building up the cemetery but as a tourist attraction for Trenton. If we can get folks interested in coming out to Jones County, it might be worthwhile to go ahead and build a real nice one here."
Barber said once the memorial design is finished the committee will need to decide where to place it. The land is surrounded by fields on two sides and is bordered on one end by a narrow branch of the Trent River, a former fishing spot which Barber remembers his father referring to as the "Deep Hole."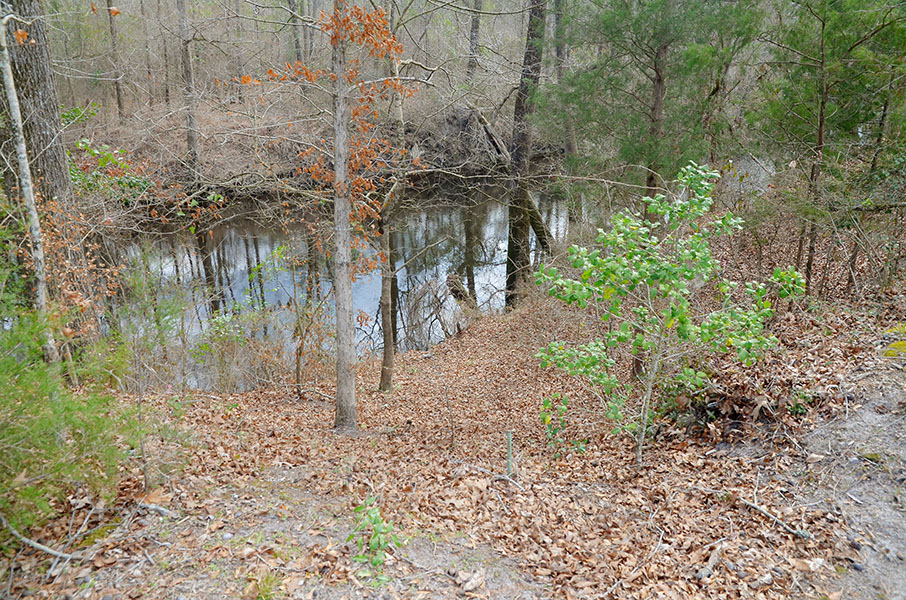 Barber said he would like to place state and U.S. flags between two trees that frame the bank of the river.
"My dad wouldn't let us come fishing down there because it was too dangerous. I had a relative who drowned here so that ended that," he recalled.
Barber said he is unaware of anyone else, even family remembers, who recall the graveyard.
"A lot of the old folk are gone and no one knows much about what's going on over here. My cousin remembered but she's gone on now. All we have now is the few records that we can find," he said.
Barber is no stranger to local efforts to preserve historic burial grounds. He played a key role in getting Trenton's Haiti Cemetery officially recognized with a dedication ceremony in 2021. The burial ground sits in the heart of the town's former Haiti (pronounced Hay-Tie) community, one of Trenton's oldest historically segregated neighborhoods.
Barber estimated that at least 30 of his own relatives are buried in Haiti Cemetery. Among them is Isaac Strayhorn, his uncle. Strayhorn rests beside his wife, Bettie, who, according to Barber, received the call sometime after Christmas in 1942 that her husband, who had been missing for about a week, had been found just offshore at the nearby Brock's Mill Pond.
According to his account, Barber, who was 11 years old at the time, accompanied his aunt and other family members to the site and was present when Strayhorn's body, bound in chains and weighted down by cinder blocks, was pulled from the water.
Asked about the aftermath of the death, Barber replied, "Nothing happened. It was a hush-hush situation because there was nothing we could do and nothing my aunt could really do. For a long time, it was not discussed, to my knowledge, in the family."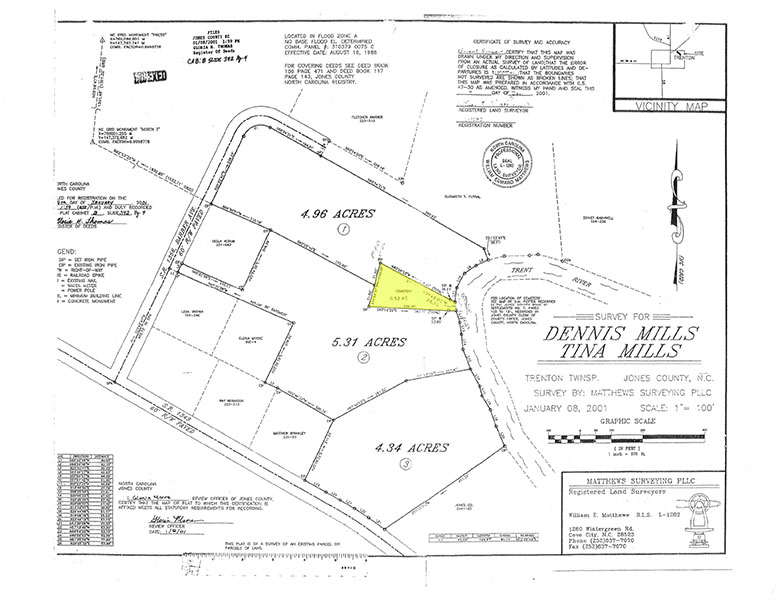 Barber said preserving sites such as the Haiti Cemetery and Barber Graveyard are an important part of ensuring that the secrets of the past aren't allowed to simply fade away.
"We will need some major support in order to complete the project," Barber noted. "Most black folk back then were either thrown in the river or just buried as animals were buried, just thrown out. Luckily, my family was able to set aside some property, but so many others were just lost."
For more information on the Barber Graveyard or to make a donation, contact Sam Barber at call 252-714-4739.
By Todd Wetherington, co-editor. Send an email with questions or comments.