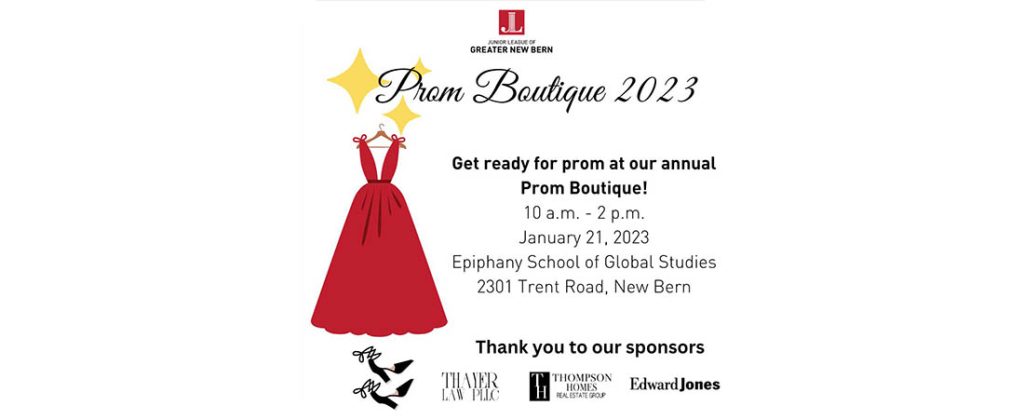 The Junior League of Greater New Bern (JLGNB) is hosting their annual Prom Boutique from 10 a.m. until 2 p.m on Jan. 21, at the Epiphany School for Global Studies in New Bern. Free prom dresses and accessories are available to all high schoolers within Craven, Pamlico, Jones and Carteret counties.
The JLGNB collected gently used dresses of all sizes, styles and colors, along with formal accessories to include shoes, jewelry, shawls and purses since November 2022. There will also be the chance to win raffle prizes to local hair and nail salons, tailors and floral shops to help students get prom ready closer to the actual event.
"Last year's Prom Boutique helped over 40 high schoolers in our area have a special and memorable prom," stated Lindsay Thayer, vice president and Prom Boutique chair, JLGNB. "This year, our goal is to impact over 100 high schoolers, and we are excited to help them get ready for prom."
This Prom Boutique is possible by this year's supporting sponsors: Thayer Law, Thompson Homes and Edward Jones.
If you are interested in supporting this event, learning more or have any questions regarding the Prom Boutique, please email jlgnbpromboutique@gmail.com. Monetary donations are also available through OneCause: one.bidpal.net/jlgnbpromboutique2023. If you or someone you know is interested in joining the JLGNB, please visit greaternewbern.jl.org.
Catherine Burgess