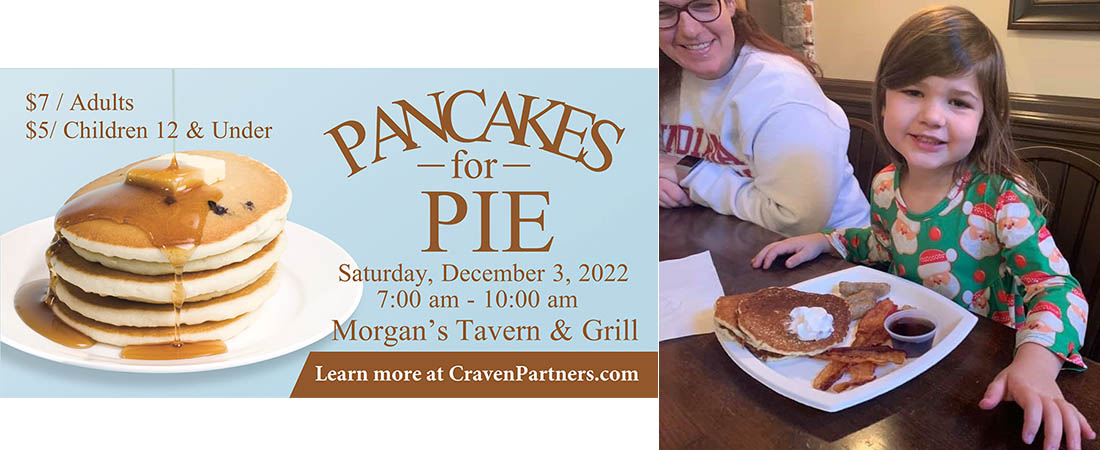 We hope you can join us Dec. 3, 2022, from 7 – 10 a.m. at Morgan's Tavern & Grill in downtown New Bern for Pancakes for PIE! Through the generosity of Candice and Adam Simmons and their staff at Morgan's, we will serve delicious pancake breakfasts (which include generous portions of pancakes, sausage, bacon, fruit, orange juice, and coffee). 
When you dine at Morgan's, be sure and tell them thank you for supporting our public-school teachers and their classrooms. This is their seventh year hosting this event, raising over $120,000 for grants for our teachers. The difference they have made in our public school system is immeasurable. 
New Bern High Chorus will carol, and Santa Ervin will join us!
The cost is still $7/adults and $5/children 12 and under. Reservations are not accepted as this is a pay-at-the-door event. 
Checks, credit cards, and cash are accepted. The price is all-inclusive.
Cheers! Meet me at Morgan's! 
Twas the Morning of Pancakes!
'Twas Pancakes for PIE Saturday morning,
With Morgan's festively decorated and New Bern High Chorus performing.
The PIE volunteers and Morgan's staff worked all the while,
Serving pancakes, bacon, sausage, coffee, and juice with a smile!
When out on Craven St. there arose such a clatter,
Ms. Scott ran out to see what was the matter.
When what to her wondering eyes did appear,
But a sleigh and Santa Ervin's eight tiny reindeer.
She ran into Morgan's and was looking around,
When down the stairs he came with a bound.
He was dressed all in red, from his head to his feet,
And Ms. Scott exclaimed, "I have to announce his arrival with a tweet!"
His eyes—how they twinkled! his dimples, how merry!
His cheeks were like roses, his nose like a berry!
He had a smile on his face and a little round belly,
That shook when he laughed, like a bowl full of jelly.
After visiting all the patrons, he called his reindeer with a whistle,
And they were ready to fly off like a class at dismissal!
He thanked everyone for supporting Pancakes for PIE as he got in his sleigh,
And he exclaimed, "Beary Merry Christmas to all, and to all a good day!"
Thank you for your continued support and partnership with PIE!
By Darlene Brown