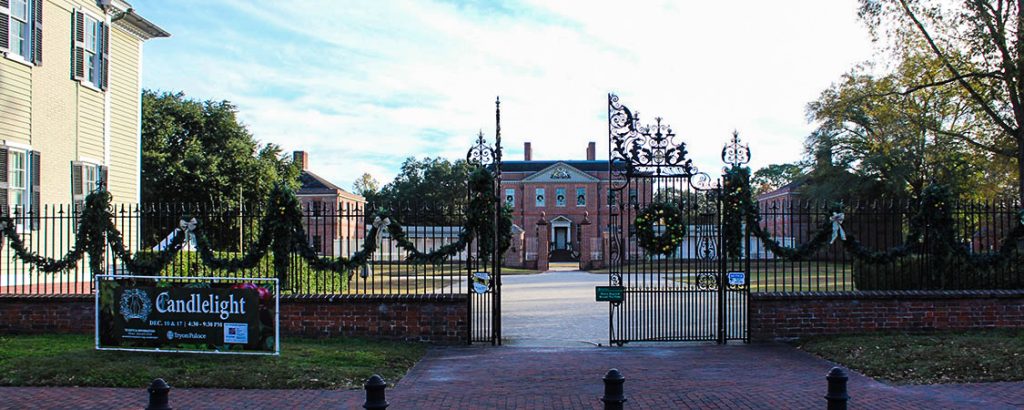 Held on the Palace grounds from 4:30 p.m. to 9:30 p.m., Candlelight falls on the two evenings of Dec. 10 and 17, this year.
For several months now, our seamstresses in the costume shop have been stitching and beading the most beautiful gown for this year's guest of honor, a mysterious princess. No doubt, there will be much gossip and chatter about her – and who she really is. Her anticipated appearance at Candlelight will be the social event of the season, and you will not want to miss it.
Who is our royal guest? It is rumored to be Princess Sophia, said to be the estranged younger sister of Queen Charlotte of Mecklenburg. While on your Candlelight tour you may learn some interesting things about her. For instance, many are questioning why she lacks a German accent and refuses to speak German. Nevertheless, as a royal, she has visited many wealthy colonists throughout the colonies, who have shown her much generosity and kindness throughout her travels. For their generosity, Princess Sophia often bestows titles and lands to her hosts. Is it possible that Governor Martin may be the next to receive such a gift?
Candlelight is a magical holiday event, with performances and festivities to please attendees of all ages. The Tryon Palace Fife and Drum Corps opens each evening at 4:30 p.m., marching ceremoniously onto the Palace grounds. Your tour through the beautifully decorated Palace, includes historic characters in period dress, dancing, playing the harpsichord, and conversing with one another. During your Palace tour, you may make your acquaintance with the mystery princess, but all conversations overheard in the Palace will center around her.
There are so many other festivities to enjoy! You can explore our decorated historic homes, and participate in the many activities held throughout the grounds, such as additional performances of Tryon Palace's Fife and Drum Corps, or the fusion of beating drums and dance from Jonkonnu performers.  A visit to the Performance Tent is equally thrilling with circus acts, fire eating, sword swallowing, acrobatics and 18th-century magic tricks.
Delicious fare can be purchased from foods trucks on Pollock Street near the Palace's front gates. At the King's Arms Tavern, just behind the Kitchen Office, grab a seat and enjoy a beer or a glass of wine. Baked goods, hot cocoa and coffee will also be offered nearby the Palace Garden store where you can also shop for a special gift for family and friends. Behind the Commission House, cider and ginger snaps will be served.
As the evening's festivities conclude around 9:30 p.m., a dazzling black powder fireworks display from the Palace's South Lawn is launched. From where you stand on the North Lawn, the panoramic view of the sky over the Palace erupts, bursting with color.
If you haven't already, it is time to purchase your tickets.
By Tryon Palace