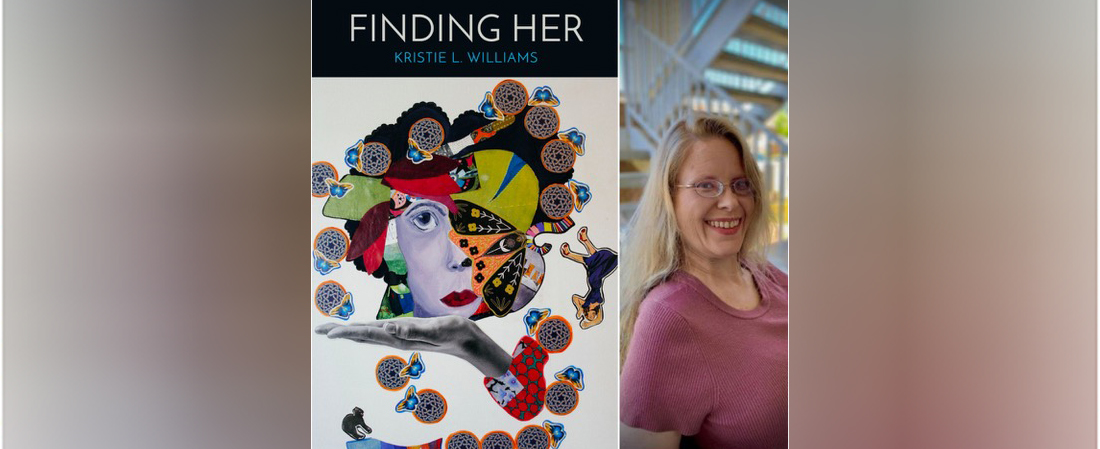 Kristie L. Williams is our Featured Poet at the free Nexus Poets' Poetry Open Mic at 7 p.m. on, Oct. 4. The event is an in-person meeting, and it is also webcast on Zoom. The event will be held at 308 Meadows Street in New Bern and there is plenty of free parking. After the Featured Poet reads the mic is open for original poems from other poets who sign up.
The poems in Williams's debut chapbook Finding Her, published by Finishing Line Press, explore a unique strength found in what it means to be feminine as she uses her own story of quadriplegia and cerebral palsy to advocate for herself and others with disabilities by participating in adaptive recreation, creating mixed media art, reading great books, and going to rock concerts.
She has been published in numerous publications including Main Street Rag, Dan River Review, Cairn, Maximum Tilt Solstice Anthology, Madness Muse Press and Hermit Feathers Review.
Malaika King Albrecht, author of The Stumble Fields, says this about Kristie's work: "Kristie L. Williams is a master at finding the humor in our human condition, and at the same time, finding the depth in the seemingly mundane. Williams balances wit and woe and doesn't turn away or blink in her honest writing. Just listen to a line from her poem 'Watching You Undress Me (A Love Letter To Body Image),' where she writes, 'imperfect beauty is comfortable in its own skin'."
Author Marlon Carey, author of Lazarus, says, "Finding Her is one woman's journey to define herself on her own terms. As she says, 'I am me that is enough.' It is a peek into the mind of a complex woman who works to overcome other's inability to see that we are all disabled by flawed perceptions. We are human. We are welcomed. We are baptized and buried. And when we arrive on the other side, we are reborn."
Kristie Williams received a B.A. in English/Creative Writing from Saint Andrews Presbyterian College and a MAEd. in Adult Education at East Carolina University.
The first Open Mic readers will be those in the audience. If you want to receive Nexus Poets' emails including the evening's Zoom link or be listed to read send an email. If there is time you can also sign up to read during the event.
This is a free public event that meets at the New Bern Unitarian Fellowship and donations are requested to help pay for the space. The event is sponsored by Nexus Poets, a collective which has promoted poets and poetry in Eastern North Carolina since 2014.
By Sam Love