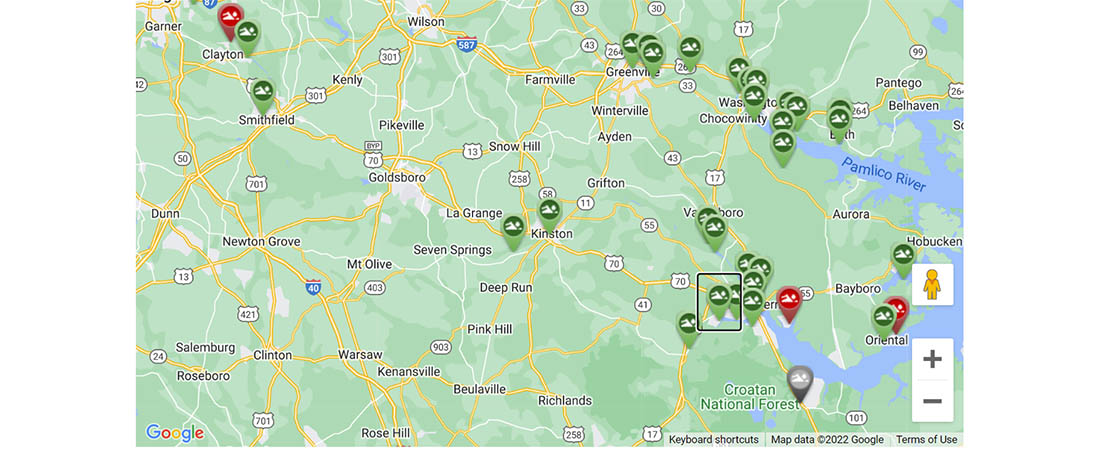 Oops! We had an error! Our brackish sites on the Pamlico River ran afoul of an error during processing. We had to exclude results for Cypress Landing, Dinah's Landing at Goose Creek, Blounts Bay, Cotton Patch Landing on Blounts Creek, Pamlico Plantation and Bonner Point and Plum Point in Bath. However, past weeks' results, historical data and weather conditions mean those sites are very likely fine for swimming this weekend! We marked them green on the map. Happy swimming, y'all!
(A green icon means a site has passed; a red icon means a site has failed; a gray icon means data was not available)
Upper Neuse
Two sites failed on the Upper Neuse this week: Clayton River Walk and Anderson Point Park.
Lower Neuse
Two sites failed this week: Upper Broad Creek at Black Beard Sailing Club and Pierce Creek in Oriental. Data wasn't available for Slocum Creek in Havelock.
Tar-Pamlico
Sunset Park in Rocky Mount failed this week.
Happy swimming, folks!