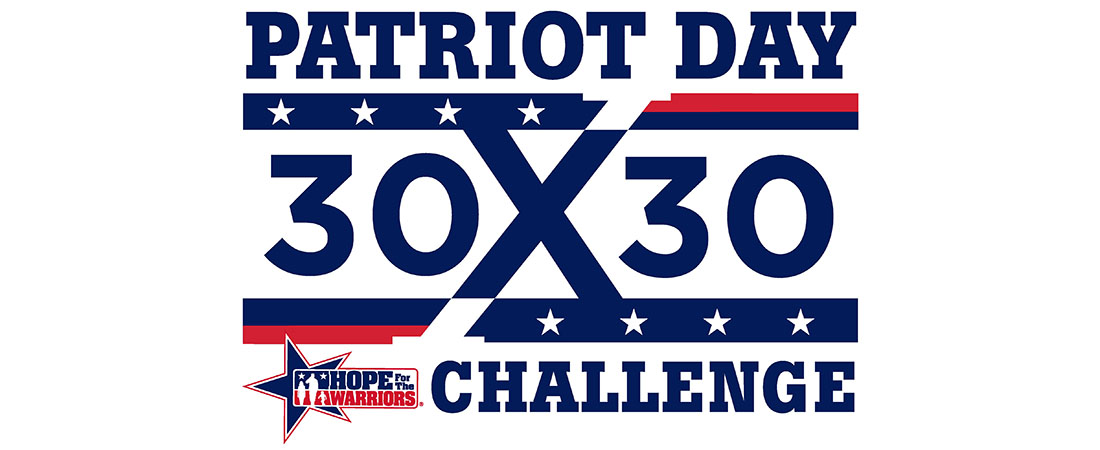 Participants can now register for the Hope For The Warriors Patriot Day 30×30 Virtual Wellness Challenge. Kicking off Sept. 1 and running through Sept. 30, individuals can participate in the free virtual wellness challenge from anywhere in the world.
The Patriot Day 30×30 Challenge is designed to support individuals reaching their total body wellness goals while honoring and remembering those that lost their lives on 9/11.
Participants are challenged to partake in an activity that positively benefits his/her well-being for a minimum of 30 minutes for 30 days. Any activity counts — walking, running, yoga, meditating, hiking, swimming.
Participants are encouraged to register for the free 30-day wellness challenge before or by August 31 at hopeforthewarriors.org. Individuals can log their daily activity through the website to maintain a cumulative total for the challenge. Twice a week, participants will receive emails that promote mind, body, spirit, connectivity, and overall personal well-being.
For $30, a 30×30 Patriot Challenge t-shirt is available during registration. (T-shirt will arrive at the end of the challenge).
"We at Hope For The Warriors constantly stress the importance of one's well-being to the military families that we serve," said Robin Kelleher, co-founder and CEO of the nonprofit organization. "Through this annual 30×30 Patriot Challenge we aim to share some tips and tricks for military and civilian families to take a moment to focus on their own mental health, while understanding it's different for each individual."
By Erin McCloskey, LLC