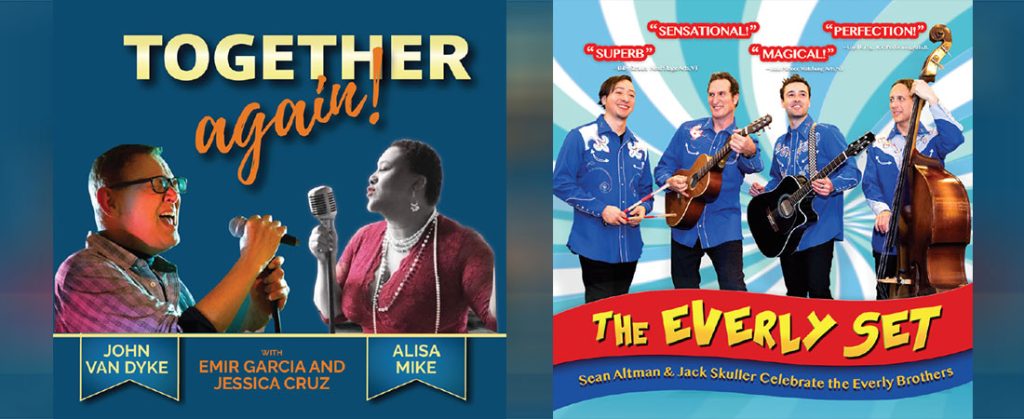 Together Again
September 23, 2022 — Back by popular demand, local singers Alisa Mike and John Van Dyke along with special guests Emir Garcia and Jessica Cruz will share the stage for Craven Concert's opening act for the 2022-2023 season. These artists are well known for their contributions to New Bern's music and theatre scene. Craven Concerts brought them together onstage for the first time in 2021. They will AGAIN take the stage in 2022 and present an evening of cabaret, Broadway, jazz and popular music.
The Everly Set
October 28, 2022 — Tribute to The Everly Brothers, Sean Altman is the Founder of Rockapella, Jack Skuller
The Everly Set takes you back to 1957 when Phil and Don Everly first supercharged the vocal sound of Rock-n-Roll with their unique style of harmonies. Lead Singers Sean and Jack keep this great music alive with renditions of Wake Up Little Susie, When Will I Be Loved and more. Golden Hits Celebration.
Alina Kiryayeva
February 23, 2023 — Modern Piano Program. Praised for her powerful command of the instrument, unique interpretations, and clarity of sound, Alina Kiryayeva captivates the audience with her profound philosophical insight and charismatic stage presence. A native of Ukraine, Ms. Kiryayeva per-formed her first solo recital at age 8 and her solo debut with an orches-tra at the age of 11. The First Prize winner of the Senigallia International Competition, Italy, Ms. Kiryayeva has also claimed top prizes in several international piano competitions in the USA.
Judy Carmichael
April 26, 2023 — Stride Pianist with Guitar. Judy Carmichael is one of the world's leading interpreters of stride and swing piano. Her talents have taken her all over the world from Carnegie Hall to the Guggenheim Museum in Venice, Italy. The high-energy program is a romp through the Great American Song-book combined with Judy's wit and humor. Swinging Piano, Sultry Vocals, and Sassy Humor.
All performance will be held at 7:30 p.m. in the Orringer Auditorium at Craven Community College.
Get tickets or more information at cravenconcertsinc.org or call 252-637-1119.
By Penny Sullivan, Craven Concerts