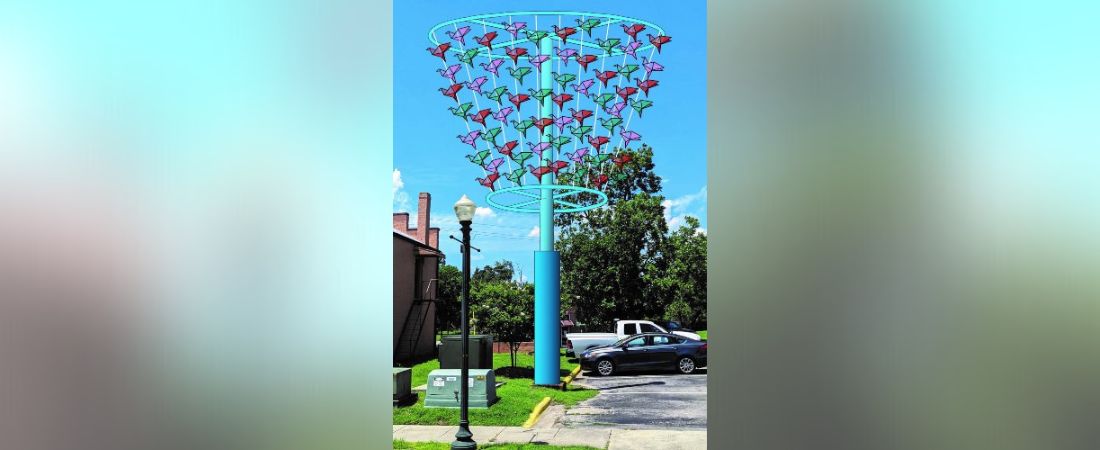 On July 23rd the Craven Arts Council will unveil its second Art in Public Places project, Peace by Piece. Art in Public places is a new initiative to create and document large-scale community-centered public art pieces, made by the community for the community. Peace by Piece volunteers have helped fold 1000 origami cranes to be installed on a former billboard pole in Five Points behind Crema Brew. Peace by Piece will be a long-term art installation symbolizing our community working together for harmony and the diversity of our town inspired by the legend of 1000 cranes popularized by Sadako and the 1000 Cranes. The unveiling will take place on July 23 behind Crema Brew at 914 Broad Street at 6 p.m.
This project is made possible by the support of local businesses and individuals including: Chris and Judy McCrudden, Dominick Giorgianni, Julie Anderson, Robinson and Stith Insurance, Cowey Insurance, CarolinaEast, Jim and Marie Vecchio, and Molly and Richard Knazek. Thank you to our in-kind sponsors: PPG Paint for donating paint, as well as Surf, Wind and Fire for sand blasting the billboard pole Peace by Piece will be installed on. Special thank you to Presenting Sponsor Alan Craig for his extreme generosity ensuring the success of Peace by Piece.
Last, but certainly not least, thank you to all of our community members, local organizations, and volunteers who made over 1000 origami cranes for Peace by Piece. It is with everyone's contributions that we are able to do projects like Peace by Piece and continue to do public art projects throughout Craven County.
To learn more about Peace by Piece, please visit CravenArts.org.
For more information, please contact Mairin Gwyn, Craven Arts Council & Gallery, Inc., at the Bank of the Arts, 317 Middle St., New Bern, 252-638-2577.
By Mairin Gwyn, Development Director