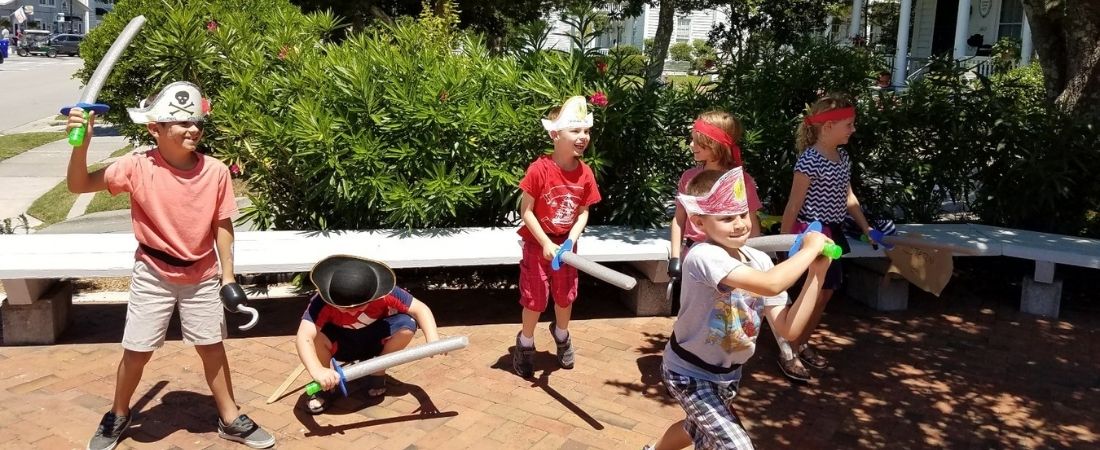 A summer program that for more than 50 years has taught children the wonders of the maritime environment returns fully for the first time since 2019.
Summer Science School, hosted by the North Carolina Maritime Museum in Beaufort, gives students an opportunity to learn about the natural and maritime history of coastal North Carolina through creative, hands-on experiences. Programs are designed to help students entering preschool up to rising sophomores develop a deeper appreciation and understanding of the maritime environment. Classes are held throughout June, July and August.
"Summer Science School programs are my favorite programs of the year," said Christine Brin, associate education curator for the museum. "It's awesome to watch the children's passion and curiosity blossom as they explore the maritime world."
Various sessions provide the students the opportunity to encounter new experiences as pirates, explorers, fishermen, scientists and model boat builders. The museum has also partnered for more than a decade with the North Carolina Coastal Reserve/National Estuarine Research Reserve for hands-on classes at the Rachel Carson Reserve.
Museum Associate Education Curator Benjamin Wunderly said these field-based classes bring North Carolina's coastal environment and culture to life for many children.
"Students in the Seashore Life and Coastal Adventures classes get to explore and learn more about estuarine habitats and the variety of flora and fauna that exist on the island," he said. "All of our classes offer that type of up-close and hands-on experience that really makes learning fun."
Summer Science School class sizes are limited to encourage active participation. There is a course fee for all classes, and advance registration is required as space is limited. While some sessions still have available spots, a few are currently waitlist only. To enroll or for more information, visit ncmaritimemuseumbeaufort.com or contact North Carolina Maritime Museum Program Registrar Ashley Godette at 252-504-7758 or via email.
The full Summer Science School schedule includes:
Entering Preschool
Preschool Storytime and Crafts
June 1, July 13, Aug. 10 • 9:00 a.m. – 10:00 a.m.
Includes a story, estuarine critter observation, and a related craft. Advance registration is required. $5.
Entering Grades 1 and 2
Pirates
June 6-7, July 11-12, July 28-29 • 9:00 a.m. – noon
Pirate food, clothes, and treasure! Ten young pirates and their fearless captain will work together to learn how pirates like Blackbeard lived, dressed, ate and worked. The pirate crew will work together to set the rules of the ship, learn some battle skills with their wooden weapons and, at the end, go on a pirate-worthy hunt through the Museum to locate hidden treasure. Advance registration is required. Fee: $90.
Seashore Life 1
June 6-7, July 7-8 • 9:00 a.m. – noon
Investigate coastal marine life of the tidal flats, salt marshes and sounds on local islands during this two-day class. The field-based classes include ferry ride, barrier island hiking and animal identification. Fee: $90.
Entering Grades 3 & 4
Boats & Models
June 16-17, June 28-29, July 18-19 • 9:00 a.m. – noon
Build a model of a sportfishing boat at the museum's Watercraft Center. Use museum exhibits and field trips to learn about boats used for offshore charter fishing and some of the fish targeted by fishermen aboard these uniquely designed vessels. Fee: $90.
Fish & Fishing
June 23-24, July 6-7 • 9:00 a.m. – noon
This course is an introduction to coastal fish and fishing methods. Cane poles, bait, and tackle are provided for dock fishing for this two-day class. Students also use nets to catch and identify marine life in near-shore waters. Fee: $90.
Entering Grades 5 & 6
Seashore Life II
June 8-10, Aug. 3-5 • 9:00 a.m. – noon
Investigate estuarine habitats, plants, and animals through field and lab studies. This three-day course includes a field trip to the Rachel Carson National Estuarine Research Reserve, water quality testing, using microscopes for plankton identification, and many more activities. Fee: $120.
Entering Grades 7-10
Coastal Adventures
July 18-20 • 9:00 a.m. – 2:00 p.m.
Students will learn more in depth the importance of estuaries and coastal processes in this three-day camp that includes a field trip to the Rachel Carson Reserve, plankton observing, squid dissections, bird watching, and many more hands-on scientific experiments. Fee: $120.
By Cyndi Brown, Public Information Officer