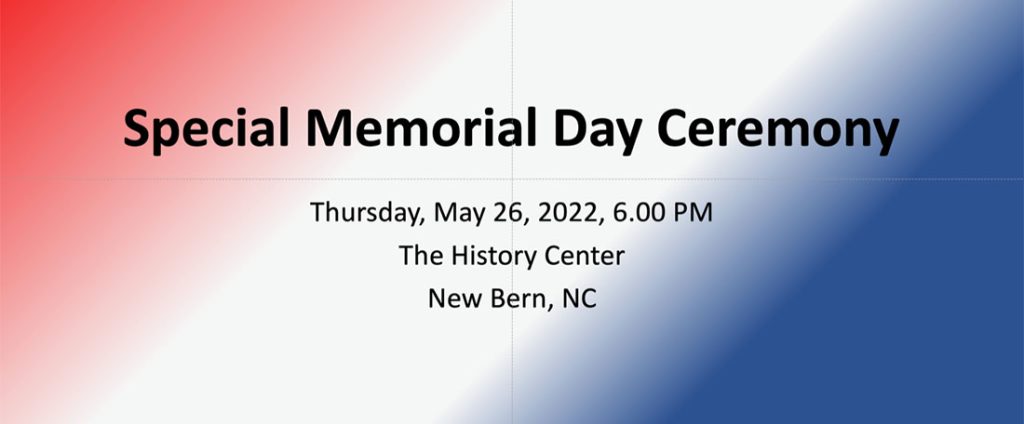 You are invited to attend a Special Memorial Day Ceremony this week in New Bern. Many veterans, their families and the community will be attending the event. This will be a unique observance of the 155-year-old tradition recognizing the service and sacrifices of local veterans, together with their families and friends, from an historical perspective, that makes our town so special.
[Note: The official New Bern Memorial Day Observance at National Cemetery, scheduled for May 30, 2022 is not part of this event.]
The Special Ceremony will be held on Thursday, May 26th, will start at 6:00 p.m., and will conclude at 7:00 p.m. at the Cullman Performance Hall in the North Carolina History Center at Tryon Palace located at 529 S. Front St. in New Bern, NC.
This event is open to the public at no charge.
Doors will open at 4:45 p.m. and close at 6:00 p.m.
Remaining seats are available on a first come-first-serve basis.
Please contact Elizabeth at 252-631-8376, via text or voicemail, indicating who will be attending in your party, so that they may be added to the guest list. We ask that you enter the letters: "SMDC" (Special Memorial Day Ceremony) on your texts, or in your voicemails, to avoid 'spam' concerns.