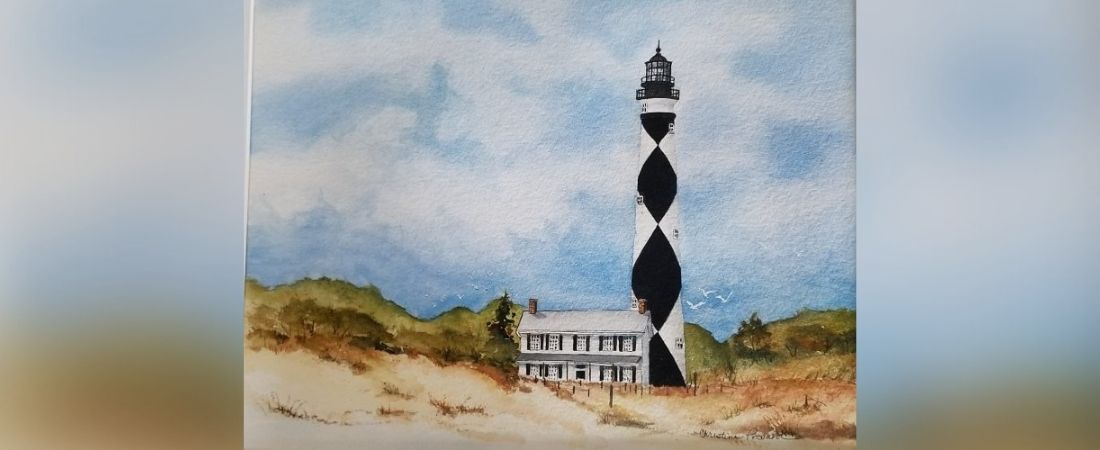 Craven Arts Council is proud to present the work of Christine Provard in the Director's Gallery. Christine Provard is a local artist known for her watercolor paintings of the North Carolina coast. Craven Arts Council will host a reception during the June ArtWalk from 5:00 p.m. – 8:00 p.m. on Friday, June 10th.
Opening Reception: Friday, June 11, 2021, from 5:00 p.m. – 8:00 p.m.
Christine became interested in pursuing watercolor under Barney Cole and participated in many workshops.
In addition to watercolor, she enjoys exploring her creativity by using driftwood and various other beach materials such as shells, beach glass, times and wire. In 2018 Christine moved to New Bern with her husband, Rick, as they were both drawn to the coast of Easter North Carolina. She enjoys painting seascapes and coastal wildlife.
Christine is a member of Community Artists Gallery and Studios, Twin Rivers Artist Association and the coastal Plein Air Group.
The Craven Arts Council & Gallery is free and open to the public Tuesday through Saturday from 10:00 a.m. – 5:00 p.m.
By Mairin Gwyn Narron, Development Director