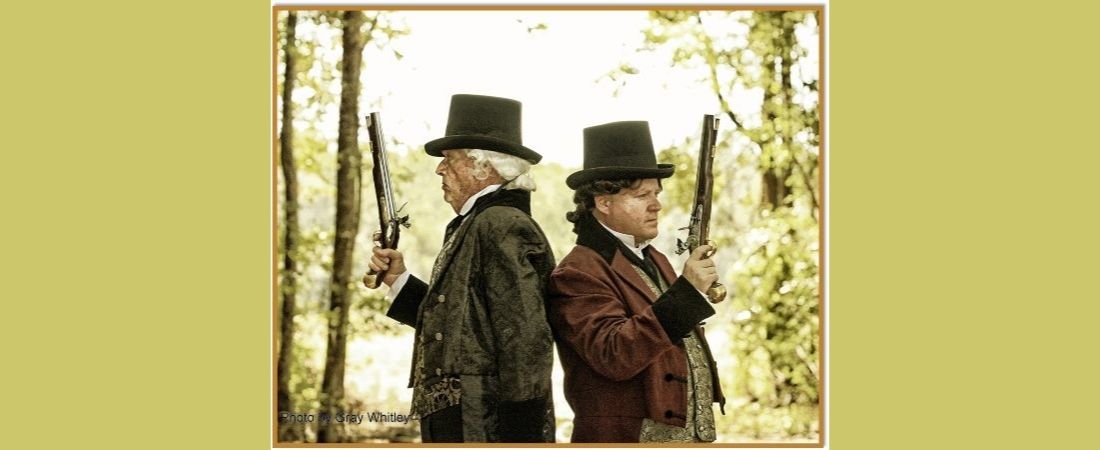 The Stanly-Spaight Duel. One of New Bern's most compelling stories. A younger man goads an older statesman. The older man insults the younger. All in public. In newsprint. Add the story of Sarah Rice, a favored slave of the Spaights, who struggles for freedom for herself and her son. Mix it all together with the knowledge and wit of Bill Hand and the music of Simon Spalding and you have Honour, The Musical. This historic tale will be brought to life through original dialogue and music, as the full-length play sweeps you from the signing of the Constitution to the dispute that would lead these bitter rivals to a fight to the death on the field of honor.
Tickets for Honour, The Musical are available at NCHistoryTheater.org or at the New Bern Historical Society at 511 Broad Street or at 252-638-8558. Performances April 21, 22, 23, 30 at 7:00 p.m. and April 24, 30 and May 1 at 2:00 p.m. All at Craven Community College's Orringer Hall.
Honour, The Musical was first presented two years ago to enthusiastic audiences. That support continues to grow. Honour is presented by the newly formed North Carolina History Theater in partnership with Craven Community College, and the New Bern Historical Society.
Writer Bill Hand has deeply researched the Stanly-Spaight duel, the story behind it and the practice of dueling in general. He explains "Most duels resulted from political accusations, or occasionally because a woman's honor was offended. By today's standards those insults are usually overlooked completely, but in that day, it was a breach of honor, and honor was everything."
Hand is responsible for both the book and the lyrics of Honour, The Musical.  The music of Honour is the work of musician, historian, author and performer Simon Spalding. Spalding has been a musician for 50+ years performing with groups throughout the US and Europe. His solo performances have taken him to a total of twelve European countries, and he has composed, arranged and performed music for dozens of commercial recordings and films. He also served for five years as Living History Programs Manager at Tryon Palace.
By Kathy Morrison, North Carolina History Theater