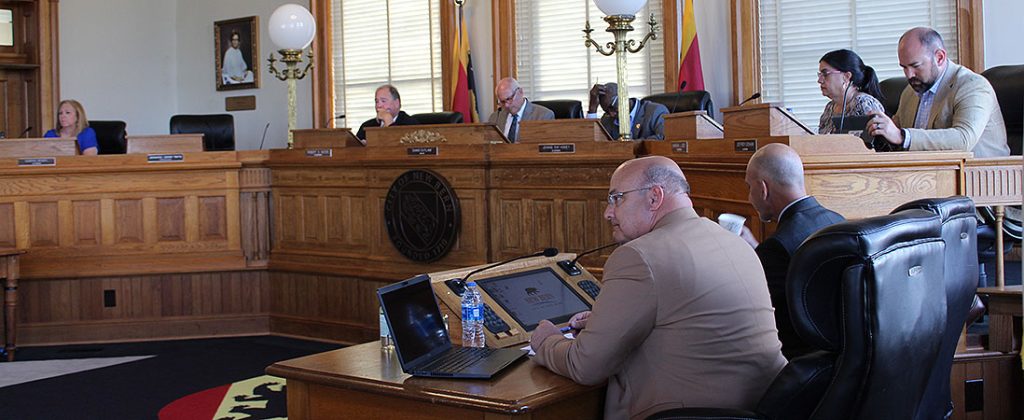 The Tuesday, April 26th meeting was held at 6:00 p.m. in the Courtroom at City Hall located at 300 Pollock St.
1. Meeting opened by Mayor Dana E. Outlaw. Prayer Coordinated by Alderman Aster. Pledge of Allegiance.
2. Roll Call.  Mayor Dana Outlaw, Aldermen Bobby Aster, Sabrina Bengel, Barbara Best, Johnnie Ray Kinsey, and Jeffrey Odham. Absent: Alderwoman Jameesha Harris.
Consent Agenda
3. Approved a Proclamation for National Drinking Water Week.
Jordan Hughes, City Engineer, has requested a proclamation promoting the importance of drinking water and recognizing the first full week in May as National Drinking Water Week.
4. Adopted a Resolution Calling for a Public Hearing to Rezone 1301 S. Glenburnie Road.
(Ward 4) Quality Oil Company, LLC has requested to rezone a 0.95-acre parcel from C-4 neighborhood business district to C-3 commercial district. The property is located at 1301 S. Glenburnie Road. The Planning and Zoning Board unanimously approved this request at their April 5, 2022 meeting. It is requested a public hearing be called for May 10, 2022 to consider this request.
5. Approved Minutes.
6. Consider Adopting a Resolution Authorizing the City Manager to Execute an Agreement with Draper Aden and Associates for Engineering Services for Phase 3 of the Category D Hurricane Florence Drainage System Project.
(All Wards) The City received responses to a Request for Qualifications for engineering services associated with the Hurricane Florence FEMA project related to the City' s drainage system. Six responses were received, and Draper Aden and Associates was selected as the most qualified firm. Their services will provide for the completion of the design work related to Category D projects within the Brices Creek, Jack Smith Creek, Jimmies Creek, North Glenburnie, Riverfront, Rennys Creek, Trent River, and Wilson Creek basins.
Decision: Voted 6 – 0 to Adopt Resolution.
7. Consider Adopting a Resolution Authorizing the Execution of a Conservation Easement with the State of North Carolina Land and Water Fund for Tax Parcel ID 8-244-021 Adjacent to Martin Marietta Park.
(Ward 5) During the planning stage of Martin Marietta Park, a conservation easement was identified that limited recreational activity on the park' s bodies of water. The City began working with the NC Clean Water Management Trust Fund in 2018 to ease those restrictions. The State proposed a conservation easement on an adjacent 8.2-acre parcel to offset the existing easement at the park, and the Board approved this request on July 24, 2018. The proposed resolution will approve a new conservation easement for the adjacent parcel, which is identified as Tax Parcel ID 8-244-021.
Decision: Voted 6 – 0 to Adopt Resolution
8.  Consider Adopting an Ordinance to Amend Article III " Noise" of Chapter 26 Environment."
The Police Department has received several calls to address loud noise from street performers who use amplified speakers to project music on public property. Although the current ordinance contains language that prohibits noise above a certain decibel level, the characteristics of a business and an open-air performer are different. Amplified noise within a business is muffled and does not generally create the same adverse impact. Additionally, the city does engage in permitted events throughout the year that are negatively impacted by competing street performers who use amplified speakers. The requested ordinance change does not impact a person' s freedom to engage in busking activities if they do not utilize speakers to amplify their instruments.
Decision: Voted 6 – 0 to adopt Ordinance.
9. Consider Adopting a Budget Ordinance Amendment for FY21-22.
A budget amendment is needed to recognize $110,809 in grant funds for the Lawson Creek Marshwalk Phase II project. The full project cost was $147,746 and requires a 25% match of $36,937. Additional grant funds of $23,112 are recognized from the Edward Byrne Memorial Justice Assistance Grant and 15,000 from the Firehouse Subs Public Safety Foundation. Neither of these two grants require a match. The amendment will also transfer $29,000 from fund balance to the City Hall Elevator Project. This will cover the difference between the $3,929,000 project cost and the amount financed of $3,900,000.
Decision: Voted 6 – 1 to Adopt Amendment. (Alderman Kinsey voted no)
10. Consider Adopting an Ordinance to Establish the Northwest Interceptor Rehabilitation Phase II Project Fund.
The NC General Assembly allocated funding for various drinking water, wastewater, and stormwater projects throughout the State. The City of New Bern was appropriated $230,000 for drinking water and wastewater infrastructure projects. This ordinance will establish the Northwest Interceptor Rehabilitation Phase II Project Fund and initially fund the project with this appropriation. Once construction bids are received and the total project cost is known, a transfer will be made from the Sewer Fund' s fund balance for the remainder of the cost.
Decision: Voted 6 – 0 to Adopt Ordinance.
11. Appointments. None.
12. Attorney's Report. None.
13. City Manager's Report. 
– We're working with NC Works on a 13-week program.
– Public input part of the (inaudible) – pending clarification from Foster Hughes
– City has lifeguard positions for the Aquatic Center
14. New Business. 
Alderman Bengel: The Degraffenried Statue and James Davis plaque are in storage. Also mentioned the Social District Committee has tabled the initiative.
Alderman Best thanked Marvin Williams and NC DOT
Alderman Odham:
– Asked George Chiles, Staff Engineer, about any agreements the city may or may not have with NC DOT for Hwy 70 grass cutting. He responded "last year, they mowed it four times…"
– Asked about the signs that were put out on vacant property and Brenda Blanco, City Clerk, noted that "We've had 11 calls since yesterday morning and one bid."
15. Closed Session. None.
16. Adjourn.
The agenda, packet, and minutes are published on the City of New Bern's website here.
Individuals with disabilities requiring special assistance should call 639-7501 no later than 3:00 p.m. the date of the meeting.
Agenda provided by Brenda Blanco, City Clerk
Questions or Comments? Send an email.
By Wendy Card, Editor-in-Chief