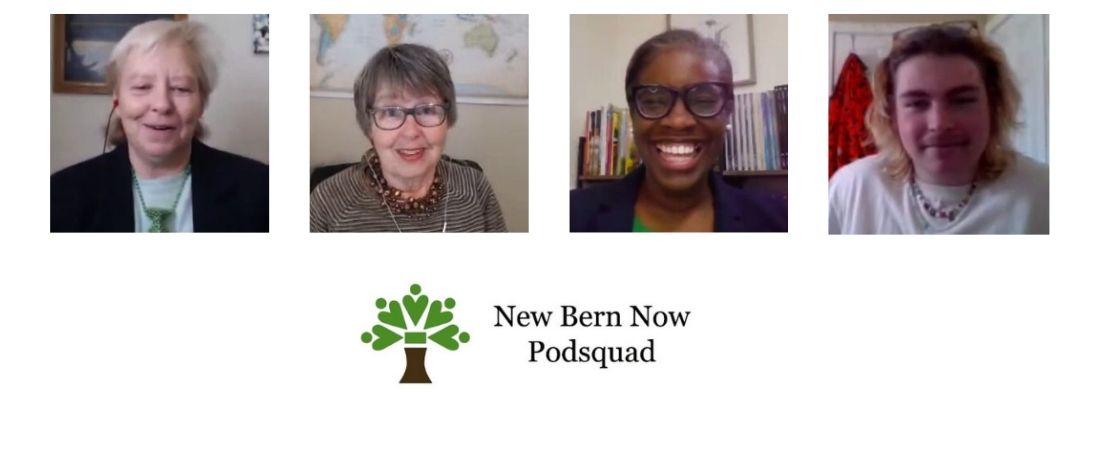 The Podsquad (Jane Maulucci and Wendy Card) had a great time talking about the people, places, and happenings in New Bern and surrounding areas. Special guests were Dr. Dawn Baldwin Gibson of Peletah Ministries and Jarett Huston.
Watch:

Listen:
Show Notes:
00:14 – Catching up with The Podsquad
04:26 – Coastal Women's Forum meeting
08:11 – Interview with Dr. Dawn Baldwin Gibson, Peletah Ministries
32:00 – Jarett Huston joins the Podsquad
43:30 – St. Patrick's Day events
44:44 – Celebrating African American Women through Song, Leaders in Civil Rights and Women's Rights
45:58 – St. Patrick's Day events
47:46 – Comden and Green performed by Lewis 'n Clark
48:34 – Prayers for Peace in Ukraine
49:04 – The Road to Mother international film
50:05 – New Bern High School Drill Team Pop Rock 2022
50:40 – The Bears rock and roll band and dinner buffet
51:32 – Artisans Affair 2022
53:17 – Bag-End concert
53:30 – Saving Site X by North Carolina Coastal Land Trust
54:06 – Little Talks: A Lecture by Jill Eberle on Portraiture
54:32 – Pull for Hope fire truck pull competition and fundraiser
54:50 – Battlefield Adventure Day
55:39 – WinterFeast Spring Edition at Tryon Palace
56:35 – New Bern Music Calendar
56:54 – New Bern Farmers' Market
The video and audio will be uploaded to NewBernNow.com, Youtube, iTunes, Libsyn, and wherever you listen to your podcasts.
You can also listen to the show on New Bern's News Talk Radio Station WNOS 103.9FM by tuning in every Wednesday at 8 a.m. and 5 p.m.
We'll be back on March 24, 2022 from 1:00 p.m. – 2:00 p.m. Watch live on New Bern Now's YouTube Channel and NewBernNowNC's Facebook page.
Let us know if you'd like to be a guest or if you have any questions by sending us an email.
By Wendy Card