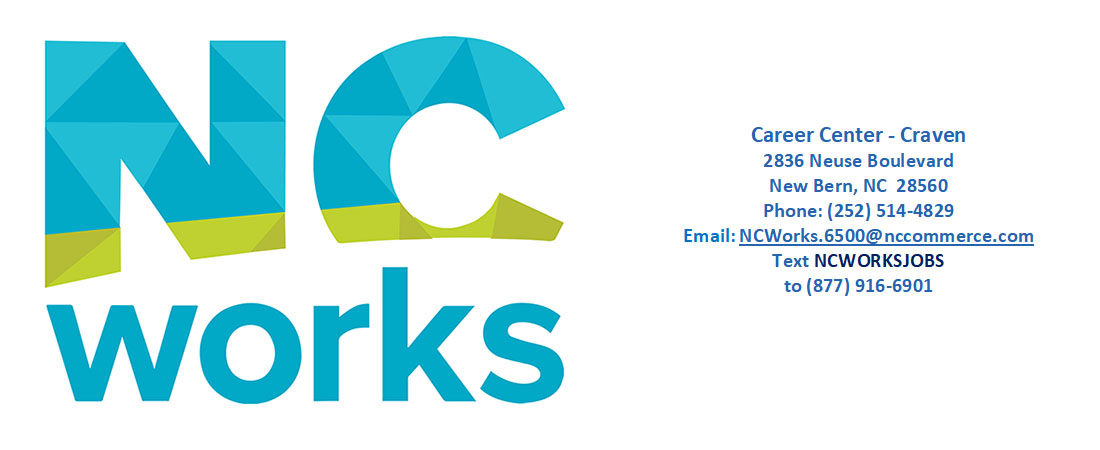 BSH – Maintenance Technician (2nd shift) [JO #12154150]
City of Havelock – Utilities Service Worker I [JO #12153764]
City of New Bern – Accounting Manager [JO #12137003]
Coastal Beverage Company, Inc. – Key Account Representative [JO #12158441]
County of Jones – Social Work Supervisor III [JO #12158336]
County of Pamlico – Natural Resource Conservationist [JO #12160456]
Craven Community College – Senior Administrative Assistant (P/T) [JO #12160572]
Craven County Government – Deputy Sheriff Electronic Offender Monitoring Prgm [JO #12159283]
Craven-Pamlico Regional Library – Library Assistant II (P/T) [JO #12162408]
Eastern Carolina Council – Executive Director [JO #12160449]
Greene Lamp – Career Advisor (P/T) [JO #12149253]
Hardee's – Breakfast Shift Leader [JO #12159575]
HeartWorks Children's Medical Home Mission – Teacher Aides [JO #12162297]
Interfaith Refugee Ministry, Inc. – Job Developer [JO #12137331]
Jones County Public Schools – Substitute Teachers [JO #12153342]
L. Oden Trucking, LLC – Truck Driver [JO #12160287]
Mr. C's Lawn Care & Landscape Design – Lawn Maintenance Worker [JO #12156086]
Methodist Home for Children – Resident/Youth Counselor [JO #12153741]
Navy Federal Credit Union – Member Service Representative [JO #12160007]
Pamlico Correctional Institution – Plumber II [JO #12158317]
Pamlico County Schools – Maintenance Worker [JO #12121905]
Pamlico Division of Motor Vehicles – Driver License Examiner (P/T) [JO #12162400]
Roebuck Staffing Company – Construction Worker [JO #12161817]
The Epiphany School of Global Students – After School Teachers (P/T) [12163360]
Twin Rivers Opportunities – Family Self-Sufficiency Program Coordinator [JO #12149298]
United Connections Logistics, LLC – CDL A or B Drivers [JO #12159426]
For more details/how to apply, visit ncworks.gov and search by JOB # or Text NCWORKSJOBS to 877-916-6901.
Jones County Schools:
Elementary School Teacher [JO #12163291]
School Bus Drivers [JO #12121150]
Substitute Teachers [JO #12153342]
For more details/how to apply visit https://www.jonesnc.net/page/employment or visit www.ncworks.gov.
****
For more information, visit Career Center – Craven, 2836 Neuse Blvd., New Bern, NC, call 252-514-4828, send an email, or text NCWORKSJOBS to 877-916-6901.
Auxiliary aids and services are available upon request for individuals with disabilities. Committed equal opportunity employer/program.
By Reeshema Walker, Center Manager, NCWorks Career Center