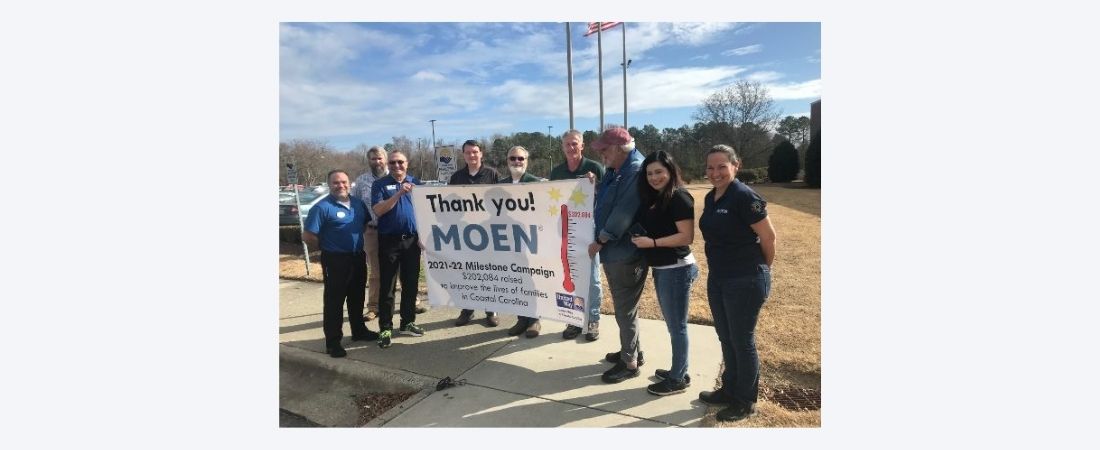 United Way of Coastal Carolina announced today that the MOEN facility in New Bern has received the 2021 Spirit of North Carolina Award for Building Momentum and Sustainability through Engaged Leadership. Moving from response to recovery during the COVID-19 Pandemic, MOEN has led the way in meeting community needs through their fundraising, volunteer, and advocacy efforts.
United Way of North Carolina's annual Spirit of North Carolina award celebrates organizations for their campaign excellence achieved through impactful events, engaged leadership, and volunteer engagement. Organizations championing Diversity, Equity, and Inclusion values and post-pandemic rebuilding efforts are also celebrated. On March 1st, United Way of North Carolina recognized 75 winners representing 22 local United Ways across the state.
"The Spirit of North Carolina Award gives United Way of Coastal Carolina an opportunity to acknowledge an organization who that has positively impacted our neighborhoods" said Sandra Phelps, Executive Director. "We applaud the MOEN team for being difference makers in our community and were excited to honor them for their company-wide culture of community involvement and giving."
MOEN's New Bern Plant has supported United Way of Coastal Carolina for over 25 years. Their commitment to UW and to other non-profits is part of the company culture. Their recent Campaign of $202,084 was a milestone. They increased both the total raised and the number of donors during a time when Covid and supply chain issues affected business.
In 2021, MOEN employees collected over 3000 books for children and young adults during UWCC's Books for Littles Drive. During United Way's April Food Drive, they were one of three area manufacturers that collected over 1000 pounds of non-perishable food and hygiene items for shelters and food pantries.
MOEN sponsored and volunteered at the UWCC fund-raiser Bacon Brew & Boo, installed a Little Free Library and donated faucets to a new Teaching Kitchen at the Filling Station in Jones County. They also provided Kindness Bags to Sheriff Deputies and picked up highway litter near their location on Earth Day.
"2021 was a year of continued challenges, requiring flexibility and creativity when planning fundraising campaigns," said Phelps. "We congratulate all 2021 Spirit of North Carolina winners for their accomplishments and dedication to United Way."
For more information about the Spirit of North Carolina Award and a complete list of winners, visit unitedwaync.org/spirit-north-carolina-award-winners.
Submitted by Sherwood Crawford