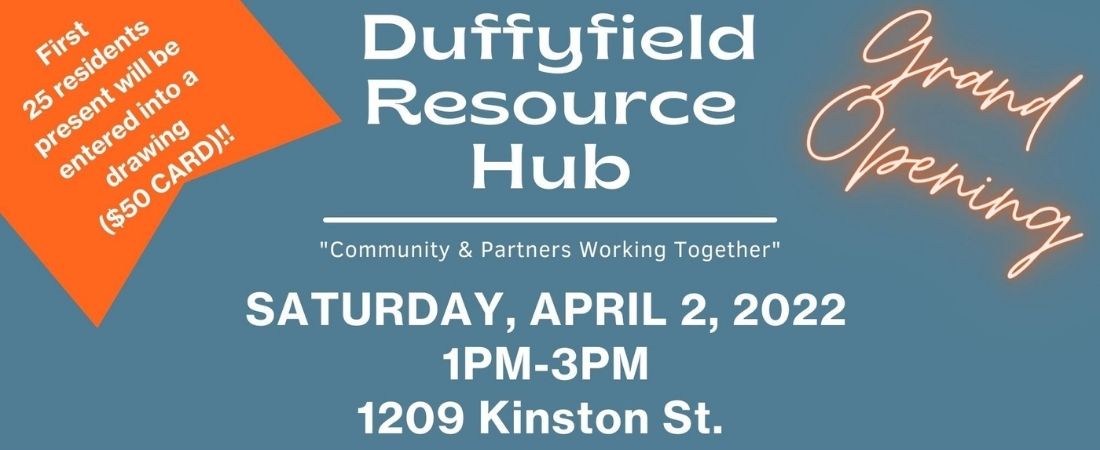 Abundant Life Community Services, Inc., a grassroots organization located in the Greater Duffyfield Community, has been providing services and resources in underserved communities through stabilized living conditions, education, and advocacy programs for over 20 years. Since its inception, the organization has been successfully addressing community needs by working collaboratively with caring partners.
The responsive approach of Abundant Life Community Services has resulted in community-defined programs including education, food security, disaster relief, youth summer programming, family life education, and civic engagement. It has been a long-standing vision of the organization to provide a centralized location, to eliminate transportation barriers and service gaps, where community members can access needed resources.
On Saturday, April 2, 2022, at 1:00 p.m., Abundant Life Community Services and partnering agencies will host the Grand Opening of the Greater Duffyfield Resource Hub at 1209 Kinston Street, New Bern, NC. The Duffyfield Resource Hub is an initiative that addresses the barriers of transportation and service gaps, by providing satellite offices in the community, forming a network of essential service providers in a centralized location.
Organizations providing resources and services at The Duffyfield Resource Hub include Abundant Life Community Services, Craven County Disaster Recovery Alliance, Craven County Health Department, Craven Literacy Council, Craven Smart Start, Divine Appointment Counseling, Habitat for Humanity of Craven County, MERCI Clinic, NC Works Career Center, Religious Community Services, United Way of Coastal Carolina, Veterans Employment Base Camp and Organic Garden, and Vidant Community Health Worker.
For more information or to become a partner at The Duffyfield Resource Hub, please call 252-633-3376 or send an email.
Corporate Sponsors of The Resource Hub:  CarolinaEast Foundation, Resourceful Communities, and Walmart
By Hazel Royal