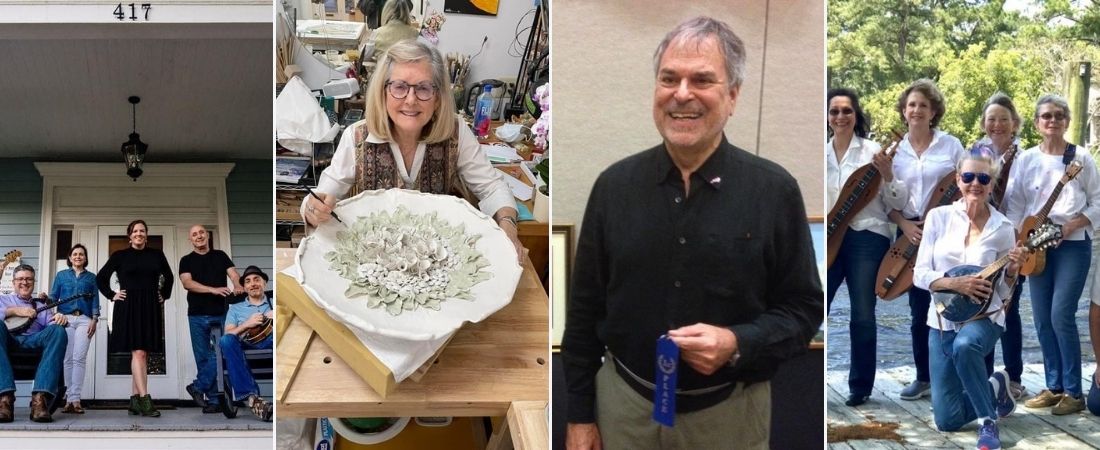 After a three-year hiatus, the New Bern Historical Society's Heritage Homes Tour is back on April 8 & 9. And it's back with a bang! Nine very special homes will be featured in historic downtown, ranging from glorious to tiny, from 19th century to brand-spanking new. These are livable family homes with rich stories and diverse architecture that illustrates New Bern's amazing history. Add artists, live music, gardens in bloom, and yummy food trucks to the mix for an unforgettable tour!
Live music kicks off with the DownEast Dulcimers on Friday, April 8 at 208 New Street from 11:00 a.m. – 12 noon and 1:00 p.m. – 2:00 p.m. The Silver Lining Singers will entertain on Saturday April 9 at 516 E. Front Street, from 11:00 a.m. – noon, and the Bonafides will take that same front porch stage from 1:00 p.m. – 2:00 p.m.
Enjoy the fascinating work of many artists.  See the stained-glass creation of Michaele Rose Watson at 407 Hancock Street 10:30 a.m. – 1:00 p.m. each day. Jewelry designer Andi Reese will be in the Attmore-Oliver House gardens at 511 Broad Street both days from 10:30 a.m. – 1:00 p.m.
You'll find more artists at their easels beginning with Jim Stillwell at 222 Change Street both days from 11:00 a.m. – 1:00 p.m. Watch for Steve Kotrch at 603 Broad Street both days from 11:00 a.m. – 12:30 p.m. You'll also see plein air artists Olga Roesch and Mary Meador out and about.
When you are ready for a break, you'll find champagne and Jersey Dawgs at Savi's Wine Shop at 713 Pollock Street.  Champagne and hot dogs – why not?!  You'll also have an opportunity to speak with local author James Moody.
Food trucks will await with Betty's Kitchen on Friday and Gigi's Snack Shack on Saturday at Brewery 99 at 1014 Pollock Street from noon to 3:00 p.m. Find Jasmine Tasty Thai on Friday and The Firehouse Kitchen on Saturday at Freshwater Brewery at 904 Pollock Street from 2:00 p.m. to 4:00 p.m.
Tickets are good for both jam-packed days. They are available at NewBernHistorical.org or at the Historical Society Offices at the Attmore-Oliver House at 511 Broad Street. Also available at Mitchell Hardware, 215 Craven Street; Harris Teeter, 3565 MLK Blvd.; and Harris Teeter, Carolina Colours. Prices are: General admission advance – $20, Historical Society members, Active-duty military & family members, Students up to age 23 – $15, Groups of 10 or more – $15 (please call office). Don't wait to get your tickets — prices go up to $25 on April 8. NC sales tax will be added.
For questions or information call the New Bern Historical Society Office at 252-638-8558.
Submitted by Kathy Morrison on behalf of Mickey Miller