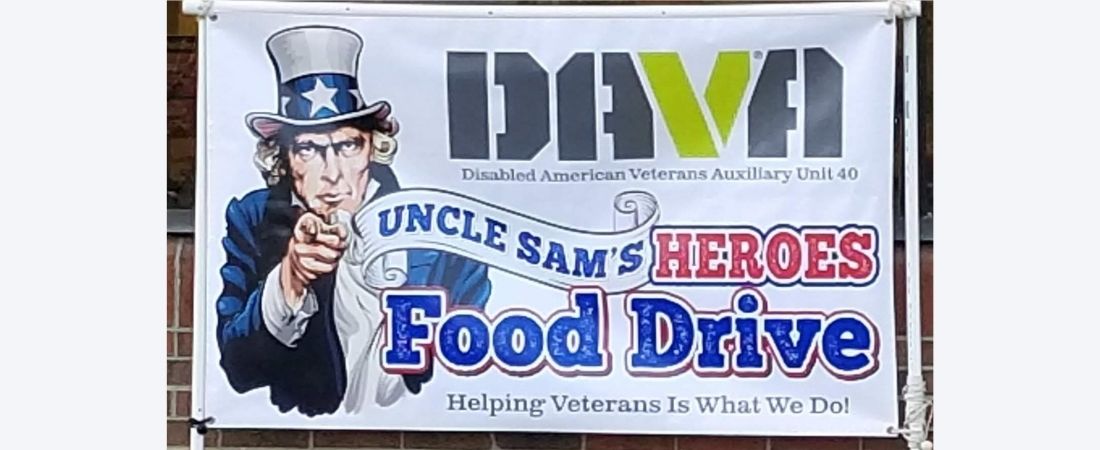 DAV Auxiliary Unit 40 of Craven County is holding a Food Donation Drive Saturday, April 3rd, 10:00 a.m. to 2:00 p.m. at Food Lion, 3301 MLK Jr. Blvd, New Bern.
The members of the Disabled American Veterans Auxiliary Unit 40 (DAVA) are here to help feed our veterans of Craven and surrounding Counties. Our mission is to help enrich our veterans' lives and that of their families. If you know of a veteran in need please call our van appointment line at 252-638-5900, leave a message and we will return your call.
We are here for ALL veterans, they do not have to be a member of any veterans organization to receive assistance from us. Just call us any time!
Some suggested items for donation:
Canned goods (vegetables and fruits), canned meals, ready meals (non-refrigerator), shelf milk, instant milk, juice, cereal (regular size and or small-box variety), bathroom toiletries, paper products, snacks, paper towels, kitchen products (dish soap, laundry soap), cough drops (sugarless preferably), pasta, cleaning products, packaged rice, etc., soups (can & bagged), can openers, syrups & salad dressings, pancake mixes, etc., crackers, instant coffee & or small containers of coffee, shelf cheese, granola bars-breakfast, mayonnaise, etc., and instant potatoes.
Thank you for helping us help our veterans! If you have any questions or are interested in wanting to join our auxiliary – just ask or call 757-652-0806 or 252-638-5900.
By Melanie Rust DAVA 40 Commander