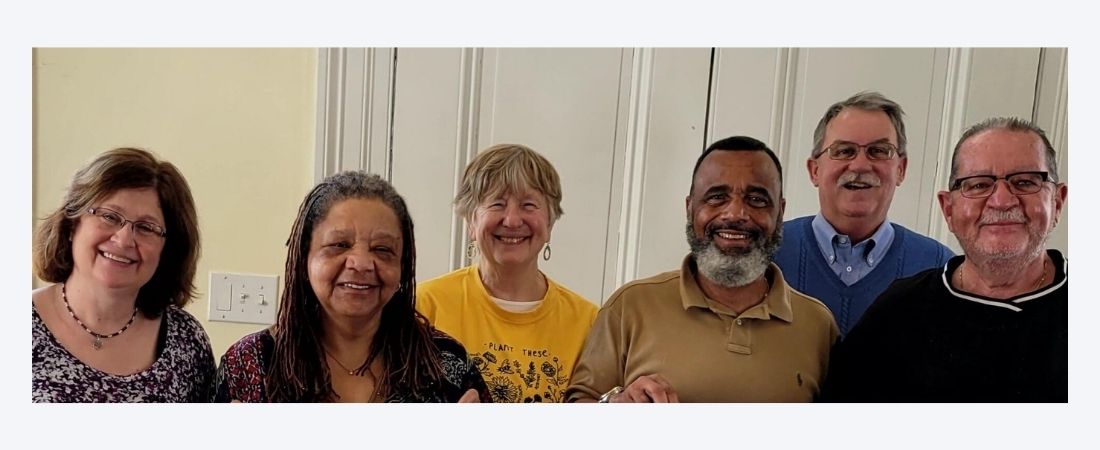 Faith Connection of New Bern has announced the election of three new members to its Board of Directors. They are Brenda George, Amanda Norwood, and Rev. Garry Slade. The announcement was made at the February Board meeting.
Ms. Brenda George is a member of Centenary United Methodist Church, where she sings in the choir and has participated actively on various committees. The daughter of a United Methodist pastor, Brenda grew up in various United Methodist churches in NC. She is an attorney by profession. After working as a public defender, she became staff attorney for the NC Legislature in Raleigh, where she served many years until retirement a few years ago. After retirement, Brenda put down roots in New Bern with her husband, Bernard George, a retired city planner, who is currently known as a well-regarded activist and historian.
Ms. Amanda Norwood is a member of Christ Episcopal Church, where she recently completed a term on the Vestry. Having a graduate degree in environmental science, she was actively involved with the Interfaith Power and Light non-profit which works on behalf of environmental stewardship. Amanda has two children, the younger of whom is now graduating from high school. Amanda was hired about 6 months ago to fill a newly created position as Outreach and Volunteer Coordinator for Interfaith Refugee Ministry. Amanda views joining the leadership team at FC as a double win-win for IRM and Faith Connection. She brings passion, skill, and energy to the Board of Faith Connection
Rev. Slade is the pastor at St. Peter's African Methodist Episcopal Zion Church in New Bern, the oldest AME Zion Church in the south. Born in Brooklyn, New York, Rev. Slade enlisted in the United States Marine Corps in 1973 and served for over twenty-seven years. In 2001, Reverend Slade joined Lion Industries, headquartered in Dayton, Ohio. He held several executive staff positions to including Regional Manager, Operations Manager, Program Manager, and Vice President.
In 1984 Reverend Slade joined Saint Julia AME Zion church, serving on the Hospitably Committee and Steward Board. For ten years he served as the Preacher's Steward and Leaders of Leaders and later the New Bern District Director for the Sons of Varick Men's Ministry.  Reverend Slade accepted his call to preach in 2011. He was licensed as a local preacher by Presiding Elder by Dr. Erlinda C. Dobson and admitted into the North Carolina Conference in 2015. Reverend Slade was appointed to Pastor Jericho, AME Zion church in Kinston, NC, that same year. In 2019 he was appointed to Pastor the Mother Church of AME Zion Church in the South, St. Peter's AME Zion Church in New Bern.
Reverend Slade holds a BBA from Campbell University, a MA in Management and Leadership from Webster University and a MTS with a concentration on Biblical Studies from Hood Theological Seminary, all with honors. He also is a member of Phi Beta Sigma Fraternity Inc. He and his wife Gwendolyn have been married for 46 years and have three children.
Submitted by Deacon Jim Hackett, Board Chair, Faith Connection