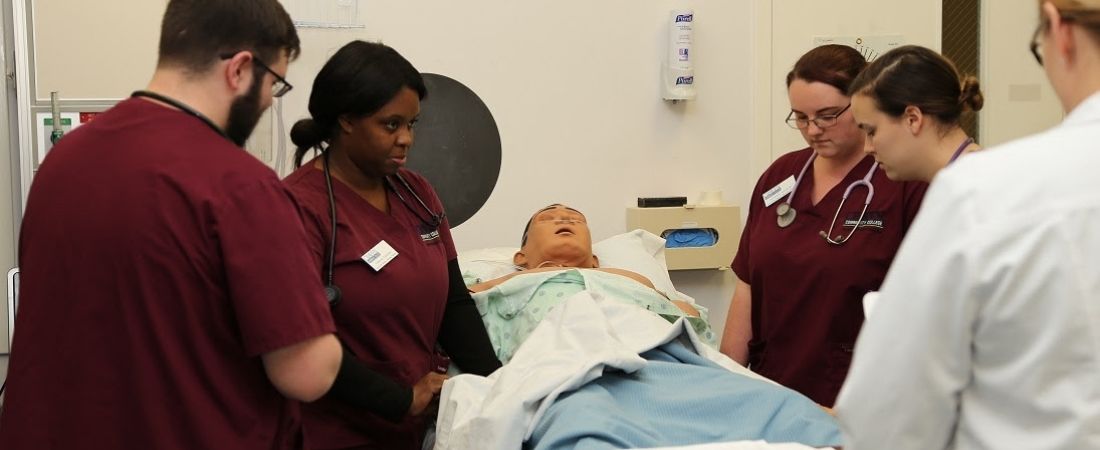 Craven Community College (Craven CC) is now offering two application periods for its Associate Degree Nursing (ADN) program. This highly competitive and coveted program will now allow students a chance to apply in the spring and fall each year.
Craven CC has had an active nursing program for over 50 years, and the fact that it has an extensive waitlist virtually every year reflects its reputation for producing highly trained nurses. In addition, the college has a strong partnership with CarolinaEast Health System, and countless graduates from Craven's ADN program have been employed at CarolinaEast Medical Center. From the spring 2021 cohort alone, 46% of the graduates are now employed there.
"Ultimately, this means that Craven is the go-to for local nursing education by CarolinaEast, which is the largest healthcare provider in the county," said Craven CC Dean of Health Programs Dr. Alec Newton.
The college's close proximity to CarolinaEast Medical Center enables all nursing students to experience clinical rotations in a hospital setting, which is vital to their training and success. Additionally, since the health field is constantly changing and evolving, Craven CC is able to work closely with the hospital to expose students to those changes so they are better prepared to serve the community.
The increasing demand for nurses means graduates of this program will have various career opportunities across the nation. The profession is extremely versatile and can be a great fit whether students plan to seek a career locally or travel around the country, which is also ideal for military spouses and dependents.
"Currently, students start in the fall and graduate two years later in the spring," said Newton. "The new dual-entry model is currently sending out notifications to applicants for the Fall 2022 term and began accepting applications back in February for the Spring 2023 term. This will provide the opportunity for employers like CarolinaEast to hire graduates twice a year to fill nursing shortages."
This change also applies to the college's transition nursing program, which allows qualified graduates of an approved Licensed Practical Nursing (LPN) program to enter the ADN program's applicable cohort in the third semester.
"Craven CC helps produce well-educated, clinically prepared professionals who are ready to enter the workforce, and CarolinaEast is excited to continue our partnership with Craven CC and to help create another opportunity each year for students to gain entrance in the nursing program, thus preparing more nurses for the future," said Jim Davis, RN, DNP, NEA-BC, Chief Nursing Officer at CarolinaEast.
Anyone interested in joining Craven's ADN program is encouraged to take advantage of this opportunity. Applications for the Spring 2023 semester are open through May 31, 2022. For more information, contact the Health Program's Admission and Advising Coordinator, Brittany Ipock, at 252-639-2025 or via email.
Submitted by Craig Ramey, Director of Communications, Craven Community College