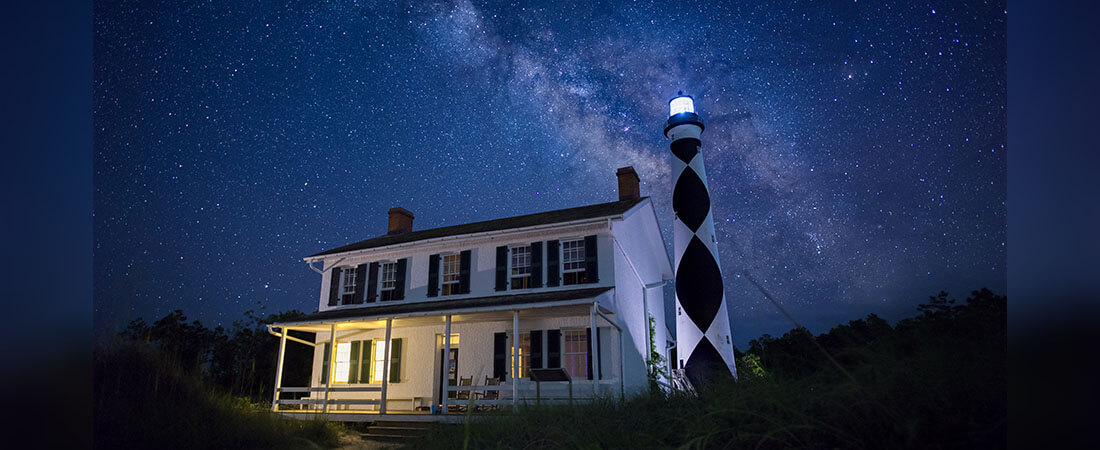 Cape Lookout National Seashore and the Crystal Coast Stargazers invite travelers and astronomy aficionados to celebrate International Dark Sky Week in North Carolina's newest International Dark Sky Park with two evenings of public stargazing on April 22 and April 23, beginning at 8:00 p.m.
Island Express Ferry Service will provide starlight cruise transportation to/from Cape Lookout Visitors Center both evenings, departing at 7:30pm. Throughout the evenings, guests will experience the exceptional quality of the night sky in the park and the nighttime treasure of Cape Lookout Lighthouse. While at the lighthouse, NASA Solar System Ambassador Brandon Porter will provide a laser pointed tour describing the celestial objects of the night sky from the beach. The cruise will depart the lighthouse at 9:00 p.m. and arrive back at Harkers Island at 9:30 p.m. Cruises are by reservation only. Tickets are $27 for adults and $15 for children (age 3-11). For reservations call, 252-728-7433.
Astronomy club telescopes will be available at the Visitors Center, located at 1800 Island Road, Harkers Island. Setup area for visitors bringing their own scopes will be around the water side and behind the Visitors Center. Stargazers should be setup by 7:30 p.m. and while there is no camping on the mainland side of the park, astronomers may remain with their telescopes throughout the night. There are public bathrooms on site and free parking is available at the Visitors Center with overflow next door in the Core Sound Waterfowl Museum and Heritage Center parking lot.
For more information, visit crystalcoastnc.org or call 252-838-8906.
By Brooke Youngblood, The Zimmerman Agency