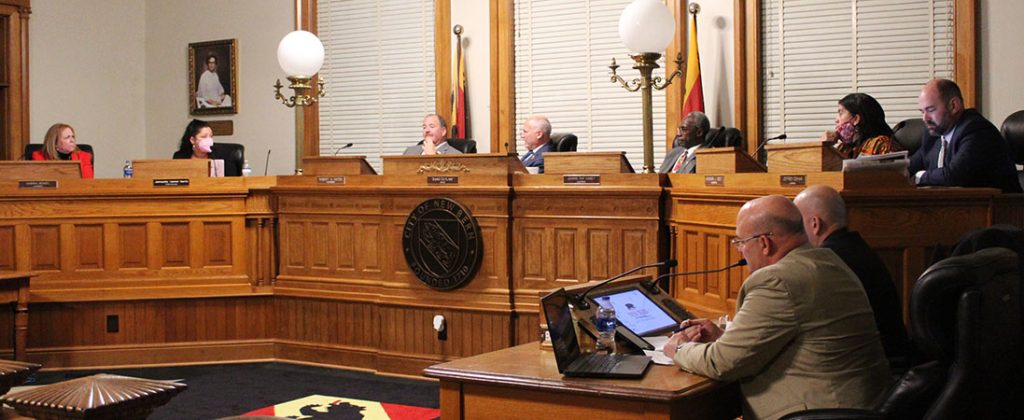 The Tuesday, February 22nd meeting will be held at 6 p.m. in the Courtroom at City Hall located at 300 Pollock St. You can also watch live on the City of New Bern's Facebook page or watch later on City 3 TV.
1. Meeting opened by Mayor Dana E. Outlaw. Prayer Coordinated by Alderman Bengel. Pledge of Allegiance.
2. Roll Call.
Consent Agenda
3. Consider Approving a Proclamation for Arbor Day 2022.
On behalf of Parks and Recreation, Kari Warren, Interim Director of Parks and Recreation, has requested a proclamation to recognize Arbor Day on Friday, March 18, 2022. The department will celebrate the day by planting several trees at Palace Point Commons beginning at 11 a. m. on that date.
4. Approve Minutes.
Minutes from the January 11, 2022, and January 25, 2022, closed sessions and the February 8, 2022, regular meeting will be considered for approval.
************
5. Discussion of Extraterritorial Jurisdiction.
By motion of the Board, this item was tabled from the January 25, 2022, meeting. Scott Davis, City Attorney, will lead the discussion. Maps have been provided of the existing ETJ areas and a 3-mile radius outside of the municipal limits to depict opportunities for additional ETJ areas.
6. Consider Adopting a Resolution Approving a Memorandum of Understanding with the Housing Authority of the City of New Bern.
The purpose of this memorandum is to enter into an agreement to work with the Housing Authority to develop an environmental review for the purpose of moving forward with the demolition of the buildings at Trent Court. Backup documentation for this item will be provided prior to or at the meeting.
7. Conduct a Public Hearing and Consider Adopting an Ordinance to Annex 3436 Old Airport Road.
(Proposed Ward 3) Eddie and Iris Teachey have petitioned the City to annex a 1-acre parcel located at 3436 Old Airport Road (Tax Parcel ID 7- 105- 020) in Township 7. The petitioners plan to build a single- family residence on the property and recently entered into a Water and Sewer Use Agreement with the City. This request for annexation is required under that agreement. After conducting a public hearing, the Board is asked to consider the adoption of an ordinance to annex the property. A memo from Brenda Blanco, City Clerk, is attached along with a copy of the petition to annex and a map of the subject property.
8. Consider Adopting a Resolution to Initiate the Upset Bid Process for 1106 Broad Street.
(Ward 2) Kurtis Stewart has submitted an offer of $5,400 to purchase 1106 Broad Street. The tax value of the 0.060- acre parcel is $10,800, and the offer represents 50% of that value. The property was acquired jointly by the City and County in August 2017 through tax foreclosure. The unpaid taxes, interest, and penalties, due to Craven County at that time was $1,051.77. Unpaid taxes, interest, and penalties due to the City was $2,455.55, and the City also had attached a demolition lien for $6,775.86. If the property is sold for the initial bid, the City is projected to receive $3,513.90 and the County is projected to receive $1,886.10 from the proceeds, less the cost to advertise. A memo from Ms. Blanco is attached along with a copy of the offer to purchase, tax card, and a map and pictures of the property.
9. Consider Adopting a Resolution Approving an Updated Strategic Plan for the Fire Department.
After seeking technical assistance from the North Carolina Fire Marshal' s Office, input from peers, and compiling data from the City, local business leaders, citizens, and employees, the New Bern Fire- Rescue Department's first strategic plan was adopted in early 2017. That plan was for a five-year period from 2017 to 2022. Staff has now updated the plan to recognize both achieved goals and future goals. It is requested the Board consider approving the updated plan. A memo from Robert Boyd, Fire Chief, is attached.
10. Consider Adopting a Resolution Approving a Conflict of Interest Policy for Federal and State Grant Awards and Subawards.
Before funds can be disbursed, local government recipients must adopt a policy to address conflicts of interest that may arise in the selection, award, and administration of contracts supported by state and federal funds. A memo from Jaimee Bullock- Mosley is attached along with a resolution approving a policy.
11. Appointment(s).
Each municipality in the service area of the Coastal Regional Solid Waste Management Authority ("CRSWMA") can have a member serve on the Authority' s Municipal Committee and participate in Board meetings. The Municipal Committee member must be appointed by the municipality' s Governing Board. Historically, New Bern has appointed the Director of Public Works since that position works closely with waste management. For that reason, it is recommended the Board consider appointing Al Cablay to represent the City in this capacity. Mr. Cablay has
12. Attorney' s Report.
13. City Manager's Report.
14. New Business.
15. Closed Session.
16. Adjourn.
The agenda, packet, and minutes are published on the City of New Bern's website here.
Individuals with disabilities requiring special assistance should call 639-7501 no later than 3 p.m. the date of the meeting.
Agenda provided by Brenda Blanco, City Clerk
Let us know if you have any comments or questions by sending an email.
Wendy Card, Editor-in-Chief