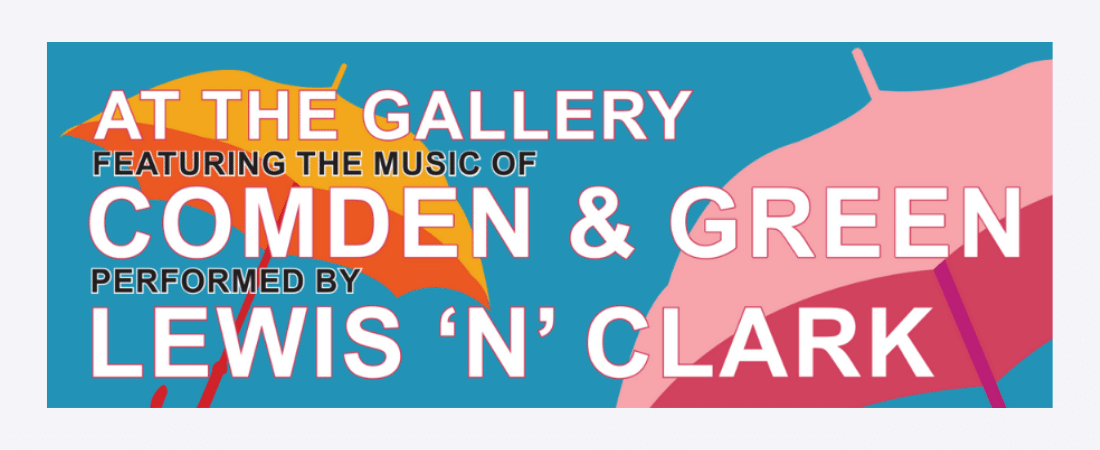 Craven Arts Council & Gallery is proud to present "At the Gallery: Comden and Green" performed by Lewis 'N' Clark at the Bank of the Arts on March 19, 2022.
Comden and Green worked together for 60 years, contributing their playwriting and musical talents to numerous popular musicals. Betty Comden and Adolph Green met in the late 1930s. Both were unable to find acting jobs, prompting them to form their own troupe with Judy Holliday. The troupe began writing their own songs, slowly gaining popularity in the musical theatre world. After their rise to fame, Comden and Green began to work for MGM and wrote screenplays and music for several musicals, including an adaptation of "On the Town", "Two on the Aisle," and "Singin' in the Rain."
Lewis 'N' Clark is a musical duo like Comden & Green, consisting of members Von Lewis and Abbey Clark. This husband and wife musical duo met at the famed Greenbriar Resort as artists in residence in 2014. Since then they have traveled across the nation performing. Von Lewis has a few notable film and TV credits including playing Bobby Rydell and singing "That Old Black Magic" in the opening scene of Universal's Green Book. Abbey Clark has been a part of vocal groups who have opened up for Jimmy Buffet, Maroon Five, and Linigston Taylor.
Tickets are $20 for members and $25 for nonmembers, available in person at Bank of the Arts, online at CravenArts.org, or over the phone at 252-638-2577.
By Mairin Gwyn Narron, Office Manager