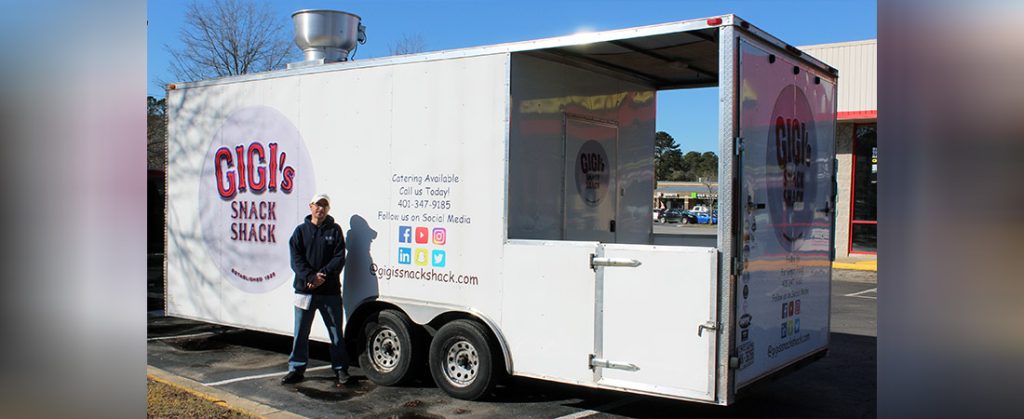 Food trucks popularity continues to rise. We caught up with Jason Romano, Chef/Owner of Gigi's Snack Shack and Nina in front of Advanced Auto Parts on S. Glenburnie Rd.
Gigi's is a full-service food truck serving New Bern and Eastern North Carolina. They offer gourmet burgers, grilled chicken sandwiches, healthy meals, and daily specials.
Jason was excited to tell us about their business, "We've been in business for about four years now, my wife, Nina and I serve gourmet burgers (Classic, Bacon Jam, Hangover, Shroom, Smokehouse, are a few signature burgers. We do fresh grilled chicken sandwiches (Classic, Bacon Ranch, Honey BBQ, Buffalo Blue, and Chipotle Asian), we also have a little bit of a healthier option as well in terms of vegetarian wraps, turkey burgers, etc."
"The nice thing is that our food truck is outfitted with a lot of different stuff so we can do daily specials on a consistent basis, especially when it's cold outside. A lot of people want a nice hearty bowl of chili or a steaming cup of authentic New England Clam Chowder."
"In the summer…we do a lot of lighter fare options so we kind of change our menu at least once or twice a year."
"It's been great we love being in New Bern. We're originally, we're originally from Boston — New England area we've moved down here about five six years ago. We were living in Snow Hill in the Kinston area and we felt like we could take our business to the next level by moving to New Bern."
"We love the history, the architecture, and most importantly the people. I mean the support that we've got since we've been here about eight months ago has been wonderful and we truly appreciate that"
Where can you find Gigi's Snack Shack? Jason said, "Tuesdays and Wednesdays we do lunches from usually 11 to 1 – 2ish, depending on how busy we are and if we've sold out. Thursdays and Fridays, we're at local breweries…Brewery 99 and BrÜtopia. We've been known to go down to a Shortway Brewery, also New Village. We do have some new spots coming up. Bogue Sound Distillery."
They've done Corporate events at Bosch, Dradura, Hatteras, and others. Gigi's can cater your event whether it's for 10 people to 300.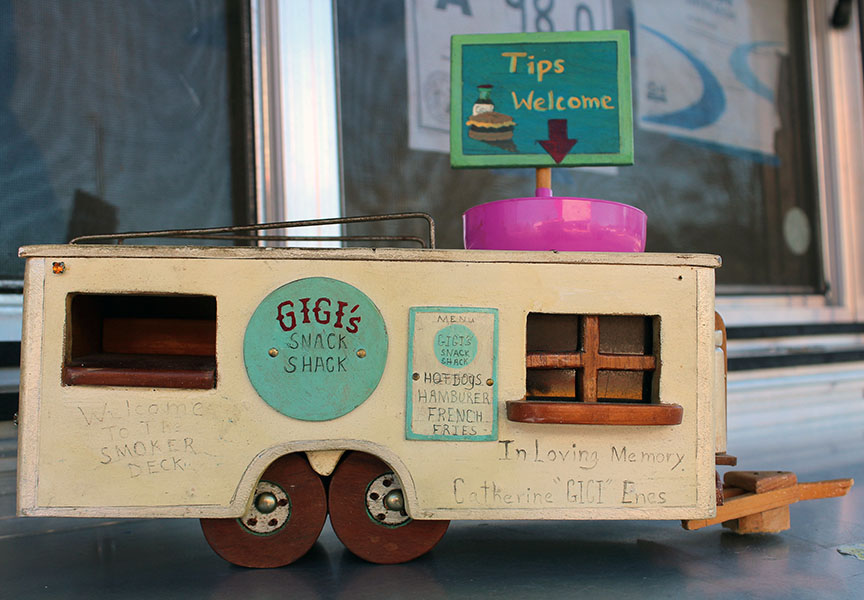 Their mobile restaurant has a special story. It's "Dedicated to my Grandmother Catherine "Gigi" Enes. She cared deeply for family, friends, and dinner around the table as often as possible. All throughout my life she instilled in me the importance of sharing a meal with family and friends. We always had a Sunday dinner, Holiday meals, Summer picnics, Family reunions, Birthday parties, etc. Although the main reason for these parties was to see other family members and friends, it was always done over a great meal or snacks and appetizers. So, our truck will focus on those foods that brought us all together. You will be missed but never forgotten Gigi."
Follow Jason and Nina on social media to see their schedule and daily specials. You can also call them at 401-347-9185.
Let us know if you have any questions or comments by emailing us.
By Wendy Card