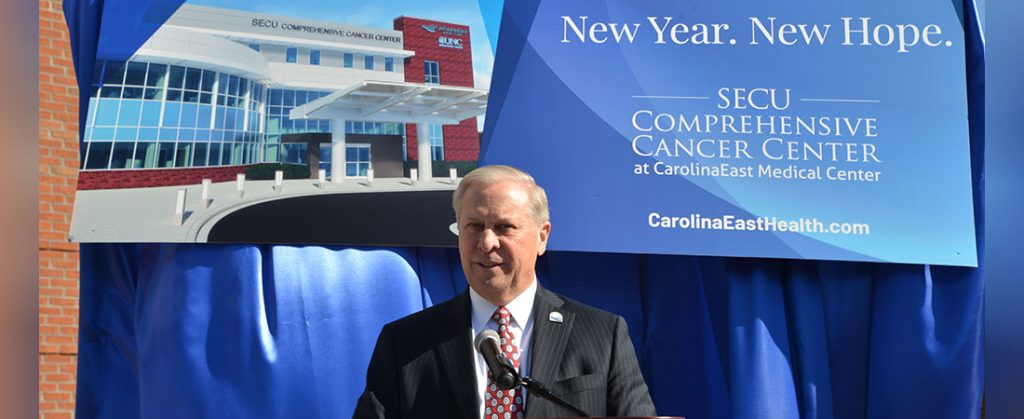 Leggett led expansion efforts in clinical quality and care capabilities that improved health for Eastern North Carolinians
Ray Leggett, who has helped transform healthcare in Eastern North Carolina over the last 13 years, will retire as President and CEO of CarolinaEast Health System in June 2022.
"CarolinaEast is an amazing success story. This staff has taken a good county hospital and turned it into one of the best healthcare systems in North Carolina and among the top 2% in the United States," Leggett said. "Having been a very small part of that has been the greatest honor and privilege of my professional life."
Ray Leggett began his career with the organization more than 31 years ago and served as CEO for the last 13. Under his leadership, Craven Regional Medical Center expanded into the multi-facility CarolinaEast Health System that has expanded the reach of health care and helped improve the health of North Carolinians in the Eastern and Coastal region.
"Without question, Ray has a proven track record of service to our teammates, our community, and to our future health," said David Blain, chair of the CarolinaEast Health System Board of Directors. "Throughout a long career of healthcare administration, he has made a lasting impact locally and across our region."
Leggett spearheaded efforts to expand services offered at CarolinaEast, including the construction of the 80,000 square foot SECU Comprehensive Cancer Center that opened its doors in January 2020 and made a world-class cancer center available in Eastern North Carolina. He cultivated relationships with other medical leaders, which opened doors for the 2021 affiliation with UNC Health, one of the nation's top academic medical institutions. This affiliation will continue to enhance and grow CarolinaEast's clinical programs and service lines, improve access to research and clinical trials and build a leading healthcare option for the residents served. Leggett also led his more than 2,700 teammates during an unprecedented public health crisis and helped CarolinaEast become one of the first in the state to receive and administer the COVID-19 vaccine, which has surpassed 32,000 doses to date.
CarolinaEast boasts many awards and accreditations under Leggett's leadership, including Newsweek Magazine and Business North Carolina Magazine top hospital, American College of Cardiology accredited HeartCARE Center, Cath Lab and Chest Pain Center, among many other prestigious recognitions. In October 2020, Leggett himself received the 2020 Citizen of the Year Award from the New Bern Civitan Club.
"I can say without hesitation, that I tried every single day as the CEO of this organization to do 'the right thing for the right reasons'. I never voted against my conscience, and I tried to always take good care of our staff here," said Leggett.
In addition to being an incredible leader at CarolinaEast Health System, Leggett is a long time New Bern resident who is very active in the community and his church. He is quick to credit the success of CarolinaEast to the dedicated employees, physicians, leadership and volunteers that serve the organization in our community.
"CarolinaEast Health System has a fabulous team and I am confident that long after I am retired, they will still come to work every single day with a Servant's Heart, remembering 'The Golden Rule.' The staff will continue to look for opportunities to make CarolinaEast better for others," said Leggett. "They answer the call every day, 24/7/365, for every single person that comes through that door, regardless of their ability to pay. They are simply the best. No one loves them and respects them more than I do."
"I have also worked closely with outstanding Board Members here at CarolinaEast. I always felt supported and I always felt the Board Members here have loved the organization, the staff and this region of Eastern NC as much as I do. I always felt their support, always appreciated their support and never took that for granted. I will always be grateful to all our past and present Board Members here at CarolinaEast and am so very thankful they gave me this opportunity to be the CEO more than 13 years ago. I hope that I served them well."
Leggett plans to retire on June 30, 2022, and CarolinaEast Health System soon will begin a national search for his successor.
By Brandy Popp, Director, Public Relations