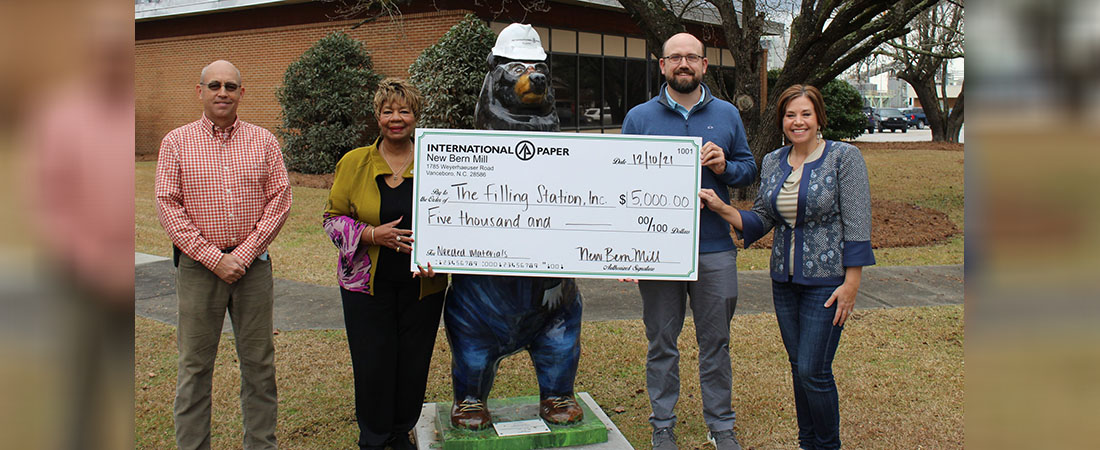 The International Paper Foundation has awarded a $5,000 grant to The Filling Station, Inc., to help purchase needed materials and appliances for the new teaching kitchen. This grant is just one example of International Paper's commitment to the company's signature causes, which include education, hunger, health and wellness, disaster relief and initiatives that improve our planet. The company is committed to addressing critical community needs where our employees live and work.
This funding will help The Filling Station, Inc. build a state-of-the-art Teaching Kitchen and offer partnerships with N.C. Cooperative Extension of Jones County and the American Heart of Association.
"In addition to being a leader in reducing food waste, we want to impact the health system in a positive way by educating our clients on how to create beautiful meals to nourish their whole body." – Mary Ann LeRay, Executive Director
"At International Paper, we believe our company cannot succeed if our communities do not succeed," said Catherine Burgess, communications coordinator, New Bern Mill. "We are proud to support The Filling Station as they make a positive impact on hunger and health and wellness throughout Jones County."
About The Filling Station, Inc.
The Filling Station, a dream born out of a long vacant, propane company building, opened its doors on August 28, 2017. Why the Filling Station name? During a walk-through of the building, someone noticed a red hazardous material warning sign with a flame and the number 1075, the DOT classification for propane. The group discovered that Psalm 107:5 read: "They were hungry and thirsty; their lives were slipping away." A new mission was launched and it was called "The Filling Station" to refer to the building's prior use as well as to its new purpose. Our mission is to assist with filling unmet needs in the areas of Nutrition, Education, and Connection serving the residents of Jones County. As of December 2021, the Food Pantry serves 700-800 households monthly, provides educational/nutritional backpacks to over 250 children and offering a Human Resources Development Computer Lab made possible through a partnership with Lenoir Community College. More information, visit our website, FillingStation1075.com.
By Mary Ann LeRay, Executive Director, The Filling Station, Inc.