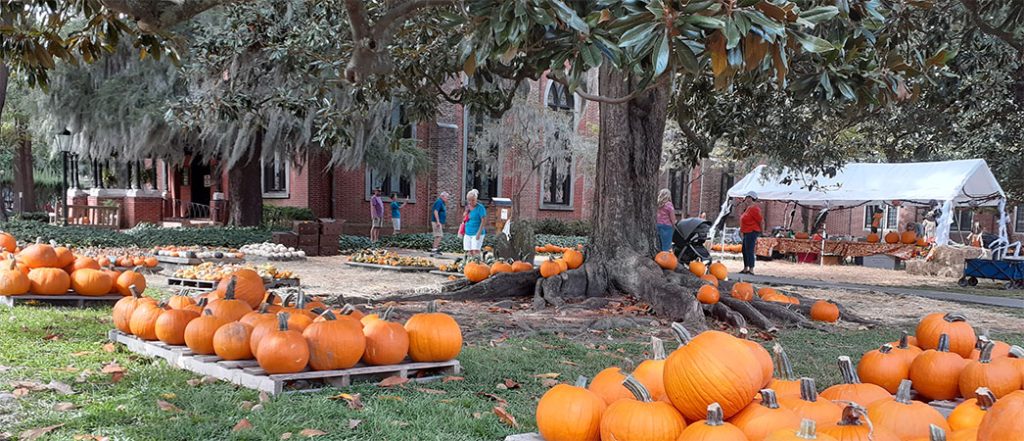 It's that time of year! Check out the upcoming Halloween festivities in New Bern and surrounding areas.
Pick out your pumpkins at:
– Christ Church's Pumpkin Patch at 217 Pollock St. Call 633-2109.
– New Bern Farm, Garden, and Landscaping, 1309 Old Cherry Point Rd. Call 638-1983.
– Pinecone Home and Garden, 4136 Dr. MLK Jr. Blvd. Call 631-5075
– White's Farm Pumpkin Patch at 5200 Hwy 17 N in Vanceboro. Call 244-2106.
– McCoy Farm Pumpkins, 1721 Jonestown Rd., Dover. Call 637-8470.
You can also find them at most area grocery stores.
All Hallows at Tryon Palace on October 23 from 10:00 a.m. – 2:00 p.m. Last tickets will be sold at 1:30 pm. Free for children dressed in Halloween costumes (offer limited to ages 12 and under); $4 for ages 13-18; $10 adults; Free for members of the Tryon Palace Foundation.
Monster Martins House of Terror presents Breach at the Bern on October 26, No scare behind-the-scenes tour, 6:30 p.m. – 8:30 p.m. at 905 Coral Ct. Admission: Canned food or $2 donation. Donations benefit RCS. And Breach at the Bern October 27 – 31, Full scare, 6:30 p.m. – 9:30 p.m. at 305 Coral Ct. Admission: Canned food or $2 donation. Donations benefit RCS.
31st Annual Ghostwalk "The Skeletons in our Closets" on October 28th – 30 from 6:00 p.m. – 9:30 p.m. Presented by the New Bern Historical Society. Call 252-638-8558.
Havelock Trunk or Treat on October 29 from 5:00 p.m. – 7:00 p.m. at the Havelock Recreation Complex, 1 Recreation Dr. Presented by Havelock Parks & Recreation.
6th Annual Bacon, Brew, and Boo Festival on October 29 from 6:00 p.m. – 10:00 p.m. at the North Carolina History Center. Presented by the United Way of Coastal Carolina.
Beary Scary Spooktacular Carriage Rides with Count Dracula & Company on October 30th, 1:00 p.m. – 6:00 p.m., starting at Bear Plaza leaving out every 15/18 mins. Walk-ups welcome, no appointment needed. Hosted by Beary Merry Events.
Beary-Not-So-Scary Halloween on October 30th, 4:00 p.m. – 6:00 p.m. Trick or Treating in the streets (Children 12 & under welcome), Downtown New Bern. For more information visit BearyMerryEvents.com.
Trunk or Treat Open House on October 30th, 5:00 p.m., at Fire Station 35, 3783 NC Highway 55 W,  New Bern. Bring your kids & meet the Station 35 firefighters, tour the station and check out the trucks. Guests are welcome to come get some treats starting at 6:00 p.m. Hosted by No. 9 Township Fire & Rescue.
City of New Bern Parks and Recreation sponsored events:
– 21st Annual Halloween Preschool Parade on October 29 at 9:30 a.m. Meet at the corner of Broad and Middle Streets. Bring your preschoolers for a special Halloween treat. Parade down Middle and S. Front Street in costumes and end at Union Point Park. Groups of 10 or more are encourage to pre-register. * Social distancing is encouraging.
– Witches Ride on October 30 at 5:00 p.m. at Union Point Park. Kids of all ages are invited to dress up as a witch, decorate your bicycle with a festive Halloween theme and enjoy a short ride around downtown New Bern. The ride begins and ends at Union Point Park. Free event. Prizes will be awarded for more creative bikes and costumers.
– Halloween Movies in the Park "the Haunted Mansion" on October 30. Starts at 6:30 p.m. at Union Point Park. Kids costume contest starts at 6:15 p.m. Free admission. Concessions will be available for purchase.
Let us know if we missed anything or if you have any questions by sending an email.
By Wendy Card