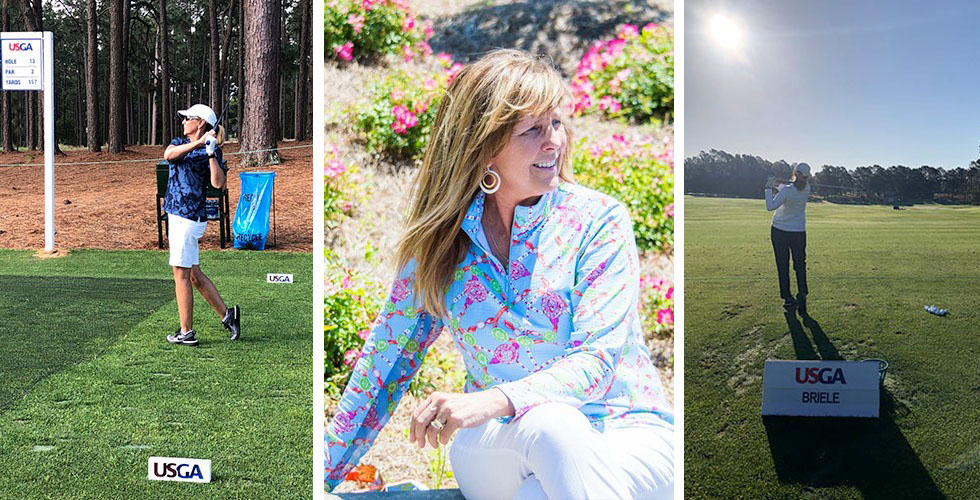 Last week I watched the Battle of the Bears and wanted to learn more so I reached out to Kim Briele to learn more about her efforts to bring sports, especially golf, back to our community during the pandemic.
Kim Briele and her Team at LCA Advertising & Productions, Inc. along with Jerry Briele, General Manager/Part Owner of The Emerald Golf Club hosted this special event. Senior All State Performers Randall Hudson and Trinity Ahing from New Bern High School went head to head in a 9-hole match play event commentated by Casey Osiecki and Lee Moore.
You may recognize Kim Briele from her sportscaster days at WCTI News Channel 12 from 1984 to 1989, where she learned to cover sports. She told us, "In 1988, I created a high school sports show and we covered area games at New Bern, West Craven and Havelock and of course the teams that traveled to compete against those schools. In 1994 – 1995 and 1998, LCA produced a nationally syndicated golf show called "This Week on The Hooters Tour" which aired in 80 million households across the country. That show laid the foundation for what we did last week with "The Battle of the Bears". The technology has changed considerably and the challenge with golf is keeping a strong signal as the action moves through the golf course managing 3 broadcast camera angles and announcers. In 2016, LCA developed an App and delivered the first online sportscast in the region with iSportsNC. So, sports have become a staple for LCA over the 30+ years we have been in existence."
LCA has the capabilities to stream any sporting event live. From kids baseball, softball, basketball, lacrosse, etc.
I asked her when she started golfing professionally and she replied, "I've been playing golf since I was 14 but didn't start playing in tournament golf until I was in college". She played softball at the University of North Carolina at Chapel Hill Tarheels my freshman year. Kim explained, "I didn't get into the starting lineup until my senior year and upon graduation I qualified for the LPGA's "Henredon Classic" which was being held in High Point, NC. I was one of two amateurs in the field. I was hired the fall after graduation as a production specialist at WBTV in Charlotte and ended up not playing golf for some time. I didn't play much competitive golf while my kids were growing up as I was traveling with them helping them pursue their ambitions of playing division 1 golf. In 2001 I made my first USGA Mid-Amateur Championship and have played in a total of 8 with 3 USGA Senior Amateurs. In 2006 I was a semi-finalist for "The Big Break" on the Golf Channel. This last year was one of my most exciting years as a golfer. I qualified to play in the USGA Senior Women's Open which only 120 players from across the world gained entry. I also played in the Canadian Women's Amateur where I finished tied for 11th. There was a time I wanted to turn professional and see if I had the skills to play on tour but the cards just never lined up. Looking back, I wouldn't trade the experiences that I have had playing amateur golf. My Dad was an avid golfer and was the person who got me started playing. My husband Jerry is the one who made me one of the top female senior amateurs in the country."
LCA is also well known in New Bern and Eastern NC as a leading advertising and productions company that offers a variety of professional services. From video & audio production (in one of their three full edit suites or in the field); web design and development; social media; graphic design; direct message marketing; and live promotions.
If you think you can't afford to advertise, Kim said, "Everyone thinks advertising is too expensive for them. Believe it or not we can find a way to help you market your brand.  If you are out of site…you are out of mind.  Businesses need to keep a presence of some sort and you need to treat an ad budget just like you treat rent or a mortgage. Advertising should be in everyone's business plan. Remember, 'It's not a risk to do work that stands out…it's a risk not to!'"
If you're struggling to change your business practices, contact LCA Advertising & Productions to see how they can help you. Kim and her team have helped me with audio and video production over the years and I highly recommend them! They are a small business who is personally invested in our community. Both Kim and Jerry Briele have volunteered, served on numerous non-profit boards, and hosted several charitable events.
LCA Advertising & Productions, Inc. is located at 1916 S. Glenburine Rd. in New Bern. Call 252-636-5860 or send them an email.
Wendy Card