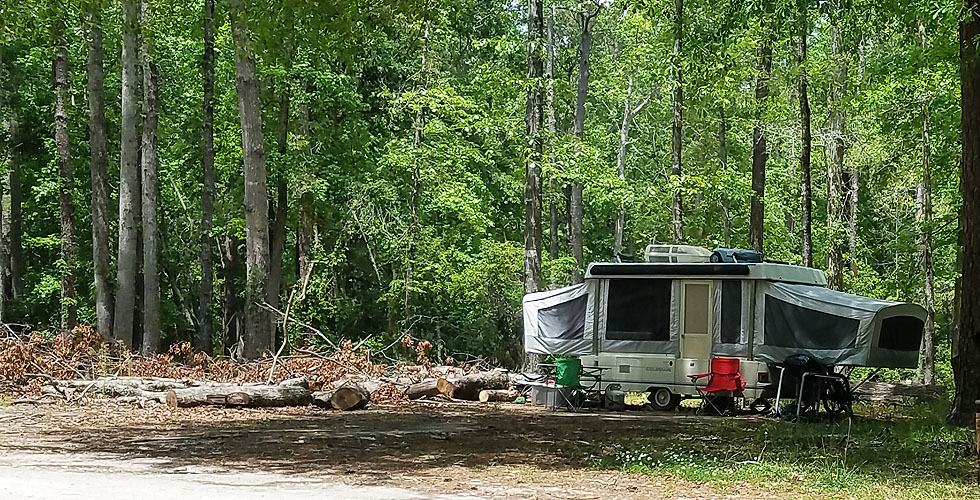 Are you looking for a way to regroup?
Camping…or Glamping for some, is a great way to get some fresh air and find yourself during these tough times!
New Bern and surrounding towns in Eastern North Carolina offer some terrific spots to unwind and relax.
A lot of local campgrounds offer RV sites, cabins, electric and primitive campsites.
There are several campgrounds in the area, but we've only spent time at the ones listed below and recommend them:
– New Bern KOA, 1565 B. St. in Bridgeton, 252-638-2556
– Turkey Quarter Campground and RV Park, 163 Kirby Rd. in Cove City, 919-202-3419
– Green Acres Family Campground, 1679 Green Acres Rd. in Williamston, 252-792-3939
When I go camping alone, I prefer to pitch a tent in the Croatan National Forest. I've spent at least 100 nights camping in the forest and each one has been enlightening, exciting, and safe!
To me, there's nothing like going off the grid and exploring nature's bounty!
"And into the forest I go, to lose my mind and my soul" – John Muir
If you haven't had the experience of camping, it's a great way to unwind, enjoy wildlife, and learn new skills.
If you haven't camped in a while, try something new:
– Start the fire with flint and steel
– Catch a fish, clean it, and cook it over the fire
– Write, draw, paint, whittle…do something you've never done
– Identify and photograph wildlife and natural surroundings
– Watch the sunrise and/or set
The opportunities are endless!
Camping is a terrific way to make memories and bond with your family.
It's an inexpensive way to regroup and reconnect with yourself and others!
Please let me know what you think or if you have any questions by sending an email.
Wendy Card