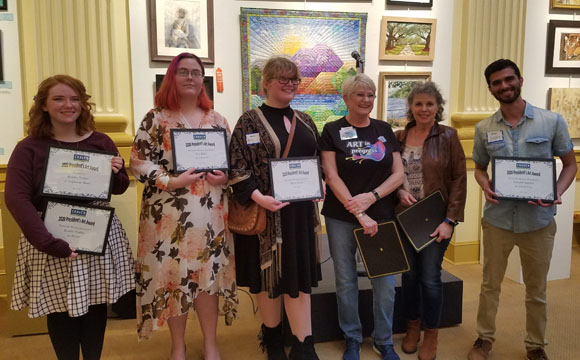 The Twin Rivers Artists Association and Craven Community College are proud to announce the winners of the annual TRAA & CCC Judged Exhibition. This annual art event highlights and honors local talent and achievement in the visual arts, both at the student and adult level.
This year's juror for the exhibition was Gosia Tojza, a Polish born contemporary Impressionist oil painter based out of Cary, North Carolina. Speaking about her criteria for judging, Tojza said she was looking for "technical skill, creativity, composition, and the overall feeling of the piece." For TRAA, the winners were as follows:
First Place: "Rainbow Cow" by Anne Bell
Second Place: "Bee Humble" by Kit Jordan
Third Place: "Hoo Me!" by Susan Callahan
Fourth Place: "Earthlyric Grays" by Georgia Mason
Honorable Mentions: "Santa's Respite" by Edward Macomber, "Mountain Colors" by Sally Rowe, "Familiar" by Deborah Cidboy, and "Layover" by Audrey Cushman
Craven Community College winners receive an free one year membership to the Twin Rivers Artists Association, to promote their development as an artist. The college also purchases the winner of the President's Choice Award to become a part of the Community College's Permanent Collection.  The winners are as follows:
President's Choice Award: "Loquacious Beauty" by Jennifer Newlon
Honorable Mentions: "County Fair" by Gamaliel Aguilera; "Mixing Bowl Set" by Tara Bailey; "M'Lady" by Jennifer Newlon; and "Lily" by Allison Snook
For more information please contact Jonathan Burger, Marketing and Gallery Director, Craven Arts Council & Gallery, Inc. at the Bank of the Arts, 317 Middle Street, New Bern, NC, 252-638-2577.
Submitted by: Jonathan Burger