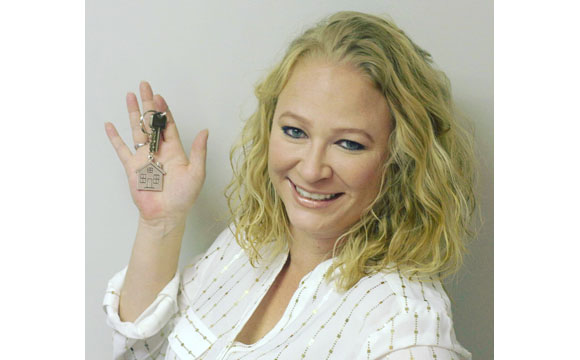 Coldwell Banker Sea Coast Advantage is pleased to announce that another local real estate expert, Megan Wallisch, has joined the company's team in the Havelock office. "Megan is an educated, likable professional with exceptional business sense," notes Leontine Zambrano, Managing Broker. "Her understanding of the latest technology and talent for marketing will benefit our office and her clients."
As a former teacher, Wallisch is proficient with producing useful research for her clients and skilled in the art of communicating large amounts of complex information in an approachable manner. "I simply love meeting new people, building relationships and helping them attain their dreams," says Wallisch, a native of Texas. "I get to do that every day as a real estate agent."
Wallisch has effectively translated her appreciation for the Crystal Coast and commitment to constantly refine her knowledge of area neighborhoods into a thriving business based on referrals and repeat transactions. Known for her ability to produce engaging, high-quality video marketing content highlighting available local properties, she has a reputation for delivering short market times and high sale prices.
Going above and beyond is a matter of pride for Wallisch, who specializes in coastal homes, waterfront properties, and military relocations. "Technology and marketing are my strengths," says Wallisch, "so I wanted to align myself with a company that is committed to provide agents with access to the latest client service and marketing technologies."
Never losing sight of her Texas upbringing, Wallisch has an air of Southern hospitality about her that endears her to everyone she meets. "I've always had a passion for helping people and searching for properties with hidden value or the potential for appreciation. This, along with the fact that I love exploring the Crystal Coast, has made real estate the perfect career choice."
Megan Wallisch looks forward to sharing her local knowledge to help you find the perfect home and lifestyle to fit your dreams and goals for the future. Connect with her at 919-333-2782.
About Coldwell Banker Sea Coast Advantage
Coldwell Banker Sea Coast Advantage is the largest and best-selling real estate company in New Hanover, Brunswick, Pender, Onslow and Carteret counties, with a 2019 closed sales volume in excess of $2 billion and more than 7,900 closed sales transactions. Sea Coast Advantage was founded in Wilmington, NC in 1988 and joined Coldwell Banker in 1993. Sea Coast Advantage is staffed by more than 640 real estate agents across 21 offices in Southeast North Carolina, in top areas such as Wilmington, Leland, Jacksonville, Carolina Beach, Topsail Island, Hampstead, Southport, Sneads Ferry, Havelock, South Brunswick, Oak Island, Holden Beach, and Calabash.
Coldwell Banker Sea Coast Advantage also has an ownership interest in 27 additional offices – Coldwell Banker Advantage in Raleigh, Fayetteville, Southern Pines, Greensboro, Winston-Salem, and the Triad; Coldwell Banker Willis-Smith in New Bern; and Coldwell Banker Chicora Advantage offices in Myrtle Beach, SC. Together, this network encompasses 47 offices and more than 1,500 agents, who successfully assisted their clients in more than 17,000 transactions in 2018.
Coldwell Banker Sea Coast Advantage has ranked #1 in Southeast North Carolina for 20 years in a row, which is unprecedented in the area. In 2019, The Coldwell Banker Sea Coast Advantage family of companies was the #3 ranked franchise for all of Coldwell Banker, a network consisting of 92,000 agents worldwide.
Submitted by: Kathy Alexander, Marketing Director, Coldwell Banker Sea Coast Advantage