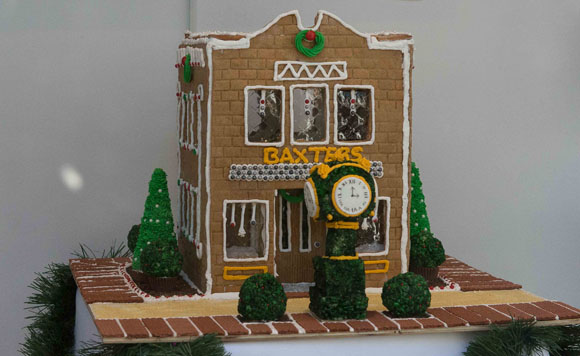 34 Gingerbread Creations in 20 Downtown Locations!
New Bern, NC – The Holidays are upon us and 34 gingerbread creations have made their way to 20 locations in Historic Downtown New Bern. The New Bern Historical Society has welcomed and installed these festive creations that run from historic buildings to gingerbread trains! A wonderful showing for the Historical Society's 3rd Annual Beary Merry Gingerbread House Contest and Display. Take a stroll through downtown and enjoy this old-fashioned tradition.  Each location shows a list of all the participating merchants.  You can also find a map at GingerbreadNewBern.com.  The display will be in place through December 20th.
The public is also invited to help select one of the prize winners.  The People's Choice Award will be determined by the vote of the public both online at the Historical Society Facebook page and in person downtown Dec. 3 at the Pepsi Store and Dec. 6 at the O. Marks Building.
The Gingerbread Awards Presentation will take place Sat. Dec. 14 at 4pm at the O. Marks Building.  In addition to People's Choice Award, prizes will be presented to 1st Place and Runner-up in 4 categories:  Youth, Adults, Family and Professional. The top award will be the Nancy Chiles Heritage Award which will go to the creation that best reflects the theme "Historic New Bern Christmas".  The public is invited to attend the awards ceremony on the 14th where the Epiphany School Singers will entertain.
The Gingerbread Steering Committee Chair, Kathy Morrison is thrilled with this level of participation. "Christmas in New Bern is such a special, joyous time!  We are delighted to have so many involved in adding this layer of fun to the festivities!"
As you plan your visit downtown, be sure to stop at the New Bern Arts and Wellness Center for a remarkable village display. It started as the potters of New Bern Health and Wellness Center prepared to make ornaments for the third year in a row in support of the New Bern Historical Society's Gingerbread Contest.  Each entry receives a handcrafted ornament as a gift for entering.  The more they discussed making their own gingerbread house, the bigger the idea became.  Now there is a growing old-world village at the Wellness Center, but it is not made of gingerbread, it is made of pottery! The Village will be on display from November 18, 2019 to January 2, 2020. You are invited to join them for their holiday opening & sale Friday and Saturday, November 29th & 30th from10:00 a.m. until 4:00 p.m.
The mission of the New Bern Historical Society is to celebrate and promote New Bern and its heritage through events and education.  Offices are located in the historic Attmore-Oliver House at 511 Broad Street in New Bern.  For more information, call 252-638-8558 or go NewBernHistorical.org or Facebook.com/NewBernHistoricalSociety.
Submitted by: Kathy Morrison on behalf of Mickey Miller, New Bern Historical Society