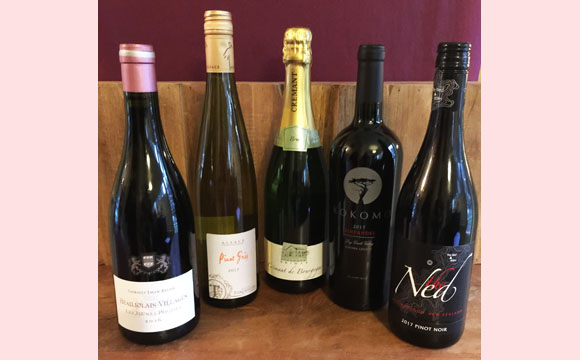 How do you pair wine with all those different thanksgiving flavors? There is a simple and elegant solution.  Pour great wine. When you serve well-balanced wine with depth, flavor, and a delicious finish, each sip adds to the gastronomic experience.
At Savi's, we've selected five Thanksgiving wines.  Two beautiful whites, two lighter-style reds, and a classic Zinfandel.  If you are a club member or want to sign up, you pay a significantly lower price.  Email Cammie Lee, Cammie@saviwine.com, for more information or stop by the shop.
Michel Briday Cremant de Bourgogne, France  Crémant de Bourgogne is a blend of grapes from 40% Chardonnay, 40% Pinot Noir, 20% Aligoté. Brilliant pale gold appearance, fine, satiny foam. Fruity and floral nose. Light and round simultaneously, vinous and subtle.
Cave de Turckheim Pinot Gris, Alsace, France 100% Pinot Gris. Lovely aromatic and flowery nose. Dry but tender and aromatic, well balanced.
Liger-Belair Beaujolais-Villages, Burgundy, France Coming from younger vines and 100% Gamay, the 2016 Beaujolais Villages Les Jeunes Pousses offers a violet-tinged, black cherry and blueberry scented bouquet to go with a nicely concentrated, balanced profile on the palate., with ripe tannin, good mid-palate depth and plenty of length.
The Ned Pinot Noir, Marlborough, New Zealand Showcases a classic fruit-driven Marlborough Pinot Noir with fragrant aromas of raspberry, strawberry and red plum. This vibrant fruit core is underpinned by savory notes of green tea, spice and a delicious French oak toast. Beautiful fruit concentration on the palate complemented by fine tannin and balanced acidity ensure a deliciously long finish.
Kokomo Zinfandel Dry Creek Valley, Sonoma, California This 100% Zinfandel is dense and structured, displaying a ravishing garnet color and showing the bright acidity and fruit of black cherry and smoky plum. Rustic yet plush, aromas of cherry, anise, and underbrush give way to focused flavors of red plum, smoky herb, and pepper. Aged 11 months in 20% new French and Eastern European oak.
Savi's Wine is located in a restored 1770's home, located one block from historic Tryon Palace. Savi's in-house collection boasts exclusive and affordable selections as well as recognizable favorites. Whether you are planning a fabulous event, looking for a memorable night out, or simply want a delicious bottle of wine to take home, come visit 713 Pollock St, New Bern, North Carolina 28562 or email: Cammie@saviwine.com Monday – Saturday: 1 p.m. – 6 p.m.
Submitted by: Alana Gentry, Wine Sommelier WSET