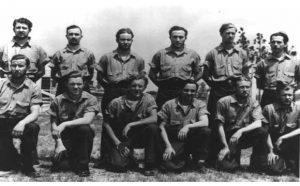 Popular Historical Society Event Repeats Nov. 6
NEW BERN, NC – It was sold out nearly 30 days in advance!  Folks really want to hear Steve Tyson's presentation, The Last POW, so the New Bern Historical Society will host a second offering on Wednesday, November 6 at 6:30pm at the North Carolina History Center in Cullman Performance Hall. Tickets are available for $10 at the Historical Society at 511 Broad St., 252-638-8558 or at NewBernHistorical.org/tickets.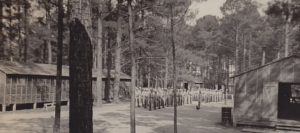 It is a compelling story. There were about 500 German and Italian POWs here in New Bern at Camp Battle for two years during World War II. Then the war ended.  In 1946 Camp Battle was closed.  What happened to those prisoners?  Steve Tyson traced the story of the last POW to leave Camp Battle. His research even took him to Germany.
Steve Tyson is a native New Bernian with a love of history. He shares many historic images on his Faceboook Page, Remember In New Bern When. He has spent many hours researching the stories behind Camp Battle. In business, Steve began as a general contractor, spending 25 years in new home construction and remodeling. In 2007 he joined wife Jana in real estate sales. Steve has given his time on many local boards. He served as a Craven County Commissioner and is on the board of CarolinaEast Health System, Craven 100 Alliance Building Committee, and the Craven County Disaster Recovery Alliance. In 2018 Steve was the New Bern Woman's Club Citizen of the year and in 2019 Steve Tyson received the Community Fabric Award for Individual Leadership presented by Craven Community College Foundation.
"The story of Camp Battle and the POWs there is intriguing.  We know this will be another popular presentation."  Mickey Miller, Executive Director of the New Bern Historical Society encourages those interested to make their reservations early.
The mission of the New Bern Historical Society is to celebrate and promote New Bern and its heritage through events and education.  Offices are located in the historic Attmore-Oliver House at 511 Broad Street in New Bern.  For more information, call 252-638-8558 or go NewBernHistorical.org or Facebook.com/NewBernHistoricalSociety.
Submitted by: Kathy Morrison on behalf of Mickey Miller, New Bern Historical Society