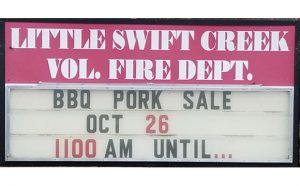 The Little Swift Creek Volunteer Fire Department is holding our Fall BBQ Pork Sale on Saturday, October 26 from 11 a.m. – until? Get here early as we run out quick! First come, first served.
BBQ Pork plates are $8. Eat in our Fellowship Hall, Drive Thru, or utilize our large lawn in the back to eat picnic or tailgate style
This is our bi-annual BBQ fundraiser to help pay for the costly firefighting equipment and gear (it costs $2500 to suit up one firefighter; air packs cost over $4000; not to mention the maintenance of firetrucks, etc.).
Get to know local volunteer firefighters and enjoy great BBQ!
Take a ride into the country and get you some fresh, good old fashioned, BBQ!
We are located at 4580 U.S. Hwy 17 in Ernul (between Bridgeton and Vanceboro, watch for signs).
Submitted by: Keul Whitford, Little Swift Creek Volunteer Fire Department