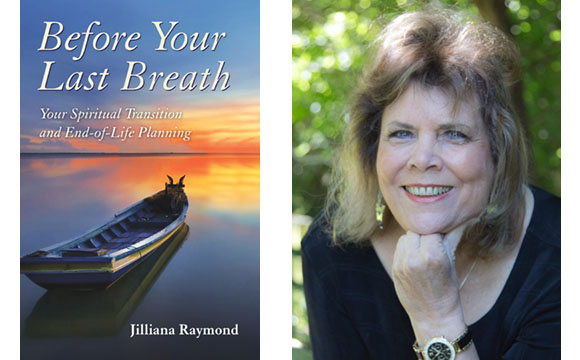 NEW BERN, NC – International award winning author Jilliana Raymond will host a book signing for her newest publication Before Your Last Breath: Your Spiritual Transition and End-of-Life Planning  on Friday, October 11, 5:00 – 8:00 pm, at The Next Chapter Books & Art, 320 South Front Street, New Bern, NC.  This latest book guides the reader to make informed choices and establish a plan for their end of life transition, to live each day with intention, and face death without fear.
Before Your Last Breath is the practical guide to assist in the decision making and organization of your final affairs. Ms. Raymond says, "There is one certainty in life that all must face: that every living soul will leave the physical world and return to the spiritual realms. Along with being a departure planning guide, this book also presents some considerations to explore regarding the after-life experiences one might encounter. Life is not an end but a new beginning."
Jilliana Raymond is an End-of-Life Doula, a spiritual consultant, and a National Board of Massage Reflexology instructor and practitioner. Through her writing, workshops, and private consultations she empowers individuals to have an extraordinary life.  To learn more go to jillianaraymond.com or email her at jillianaraymond@gmail.com.
By Contributing Author, Jane Maulucci, The Reactive Voice